When I sat down to work on this post I was sure that it would be hard to find kid safe search engines. With as much time as everyone spends online I was sure there would be too many for me to fit in one post. I was sure that I was going to bring you this great post filled with tons of sites that would let your child explore to their little heart's content. That is not the case. I found 4. 4. I don't know what is wrong with the internet that I found 4 sites that are legitimately safe for kids…
Kid Safe Search Engines and Resources
Let me stop being frustrated for a minute and share with you some of the criteria that went into a safe search engine for me.
Little to No External ads – The more ads you have on a site the more likely your child is to be exposed to something inappropriate. Many of these ad companies base the ads you are shown on your previous shopping or search history online.
Links to a legitimate site – Blog posts can be great resources but some bloggers do not write with kids in mind. I wanted to make sure each of these went to a site that was focused on children and giving them the safest search experience possible.
Filtered Search Options – I went through and searched inappropriate words. (I probably looked like a wackadoo.) I wanted to make sure that if my child gets goofy and tries typing in something, the search engine will shut them down.
Easy Search Tools – I also checked for easy search tools that a child would understand. If the site had a search bar that took me longer than 10 seconds to find and use, I did not include it. Children need something that is easy to navigate as they look for information.
I am going to share the 4 that I approved with you. Please leave me a comment if you know of a great one that I missed out on. If it passes the criteria above I may just add it to this post.
KidRex – KidRex is a child safe search engine powered by Google search. My daughter loves using this for research papers or to answer her random questions. I have not seen any inappropriate content or ads since she has started using it.
Kids.Gov– This site seems to have a very user friendly safe search setup for kids. From what I see this site seems to link mainly to legitimate sites and has no inappropriate ads on i
GoGooligans – This site seems to have some great resources without filling you up on ads or inappropriate content. I spent some time clicking around and all of the sites it took me too were clean. This site even flags certain words that could lead to inappropriate content and will not let the child search them. To give you an idea, I searched Fart and was told no.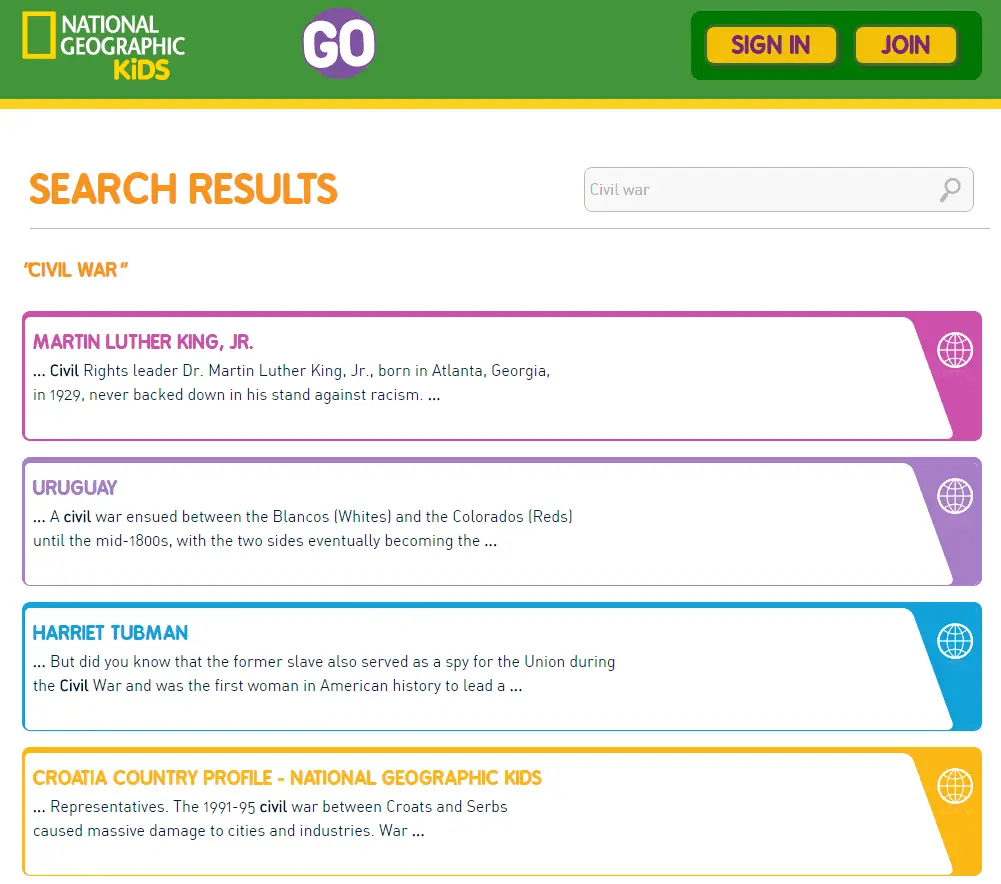 National Geographic Kids – This site seems to have a great deal of information. Each article is also packed with images and some videos to grab your child's attention. You do not need a subscription to use it.