May the 4th be with you! I knew the day would come when I was making Star Wars gifts when I married my husband. When your husband walks the aisle to the imperial death march that says a lot about what's to come. R is part of an excellent acting group and many of the kids in her group love Star Wars. She wanted to do something special for them this week so we put together this DIY Death Star washer necklace project. We had a lot of fun making them and I am going to tell you how to make your own.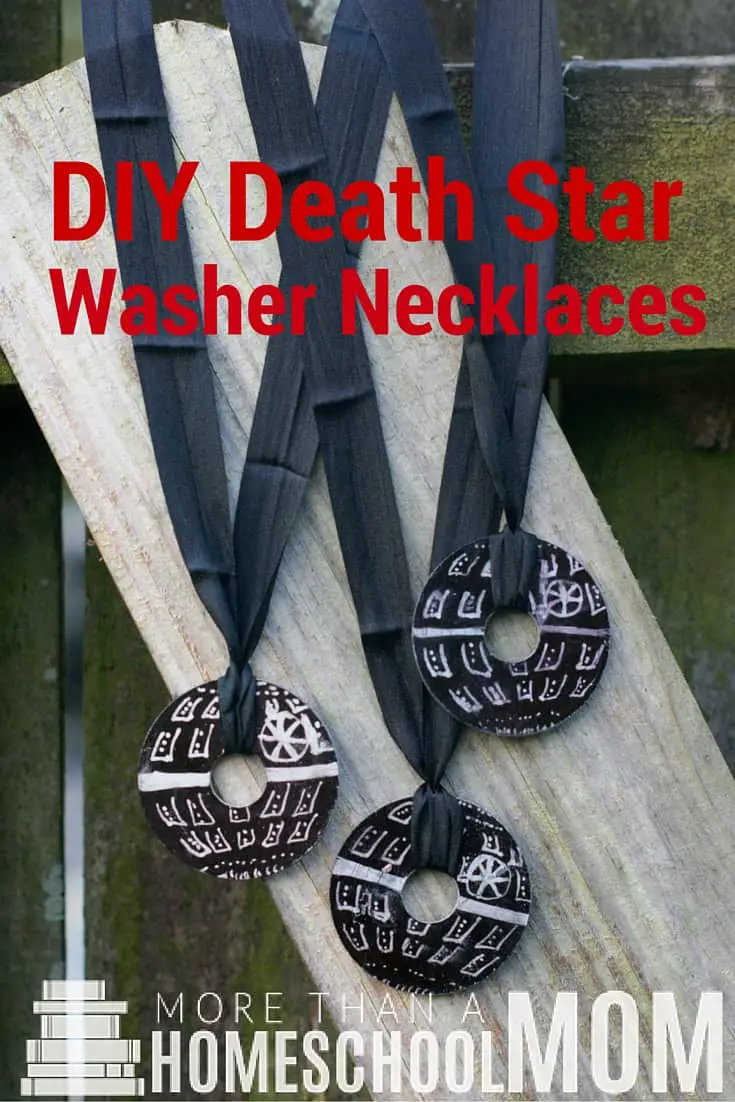 DIY Death Star Washer Necklace
What you will need: 
– Fender Washers – I picked mine up at Lowes for 14 cents each. Make sure to get one that is smooth and has a smaller hole in the center.
– Rust-Oleum Clear Coat Enamel
– Black Sharpie
– Silver Gel Pen or Sharpie
– Black Ribbon – (If making the necklace) The amount will depend on the number of necklaces you hope to make
– Use your black sharpie to cover the entire washer. – Leave no gaps.

Use your silver to draw a straight line across the center. – You can use a ruler if you want it to be perfectly straight. I did not.

Draw your circle and fill with lines. – I did mine like the one above.
Use your silver pen to draw your windows. – Make sure to curve them a bit to follow the curve of the washer.
Add three dots to each window. – This gives more of a look of a window.
Do the same on the bottom. – Make sure to follow the curve of your washer.
Spray with clear coat. – Hold the can at least 12 inches away and only spray once or it will bleed. Make sure lay it flat so colors don't bleed downward.
When dry, add your ribbon. 
These would make a fun gift for any Star Wars fan in your life.
Looking for more?