Cabana Bay Beach Resort for Families
Our family was provided a 2 night stay and 2 day Universal tickets to facilitate this post. However, all opinions are 100% our own and were not influenced by the items we were given.
This past weekend our family was invited out to Cabana Bay Beach Resort near Universal Studios Orlando. This was definitely a dream come true for us as I have always wanted to take my daughter to Universal. The last time I went with just my husband we stayed off property. We had no idea about some of the amazing offerings of on property hotels. Now I'm going to share some Cabana Bay Resort for families tips and tricks to help you see why you want to choose Universal Orlando and stay on property.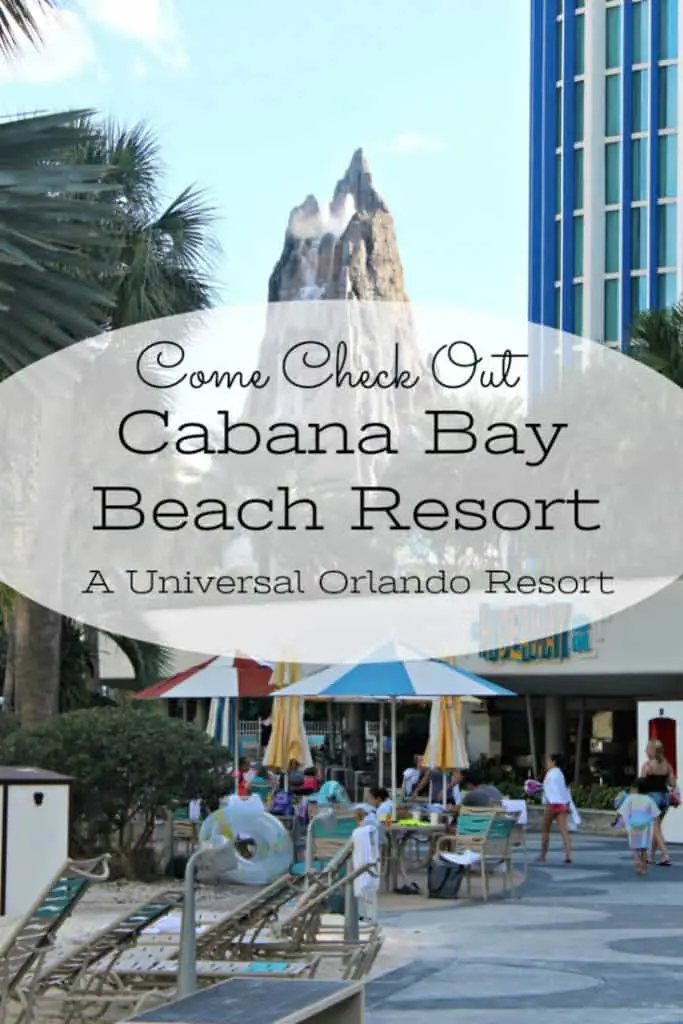 Cabana Bay Beach Resort Orlando
These tips and opinions are based on my experience with the family at Cabana Bay Beach Resort. If I leave out a feature you think can't be missed please comment and let me know.
Checking in to Cabana Bay Beach Resort
When you first drive up to the hotel you will see guest parking. You will park up there but that is not where you will stay. When you walk in the check-in desk will be to the right of the giant palm trees.
At check-in, you will be given your room keys, a map to your room, and information about shuttles.
From the check-in desk, you will then be able to go back out and grab your car and go to your room.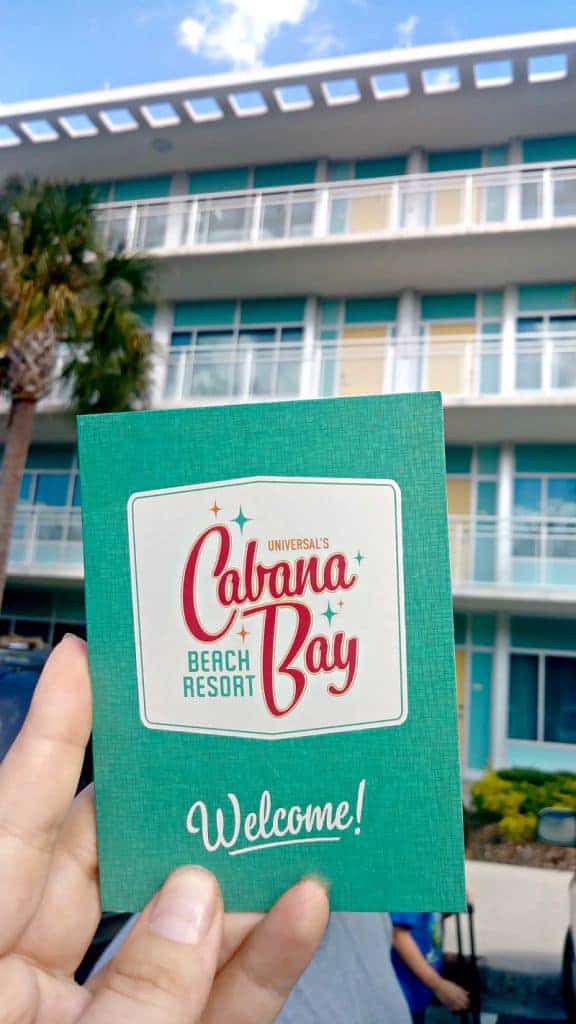 Parking at Cabana Bay Beach Resort
Your parking is $18 a night per vehicle. Your parking space can be within a very close walk of your room. This is extremely convenient for grabbing things and getting your vacation started. Our parking space for our family suite was a 2-minute walk from our room. (And part of that was on an elevator)
Cabana Bay Family Suite
We had the opportunity to stay in a Cabana Bay poolside family suite. I am going to take you on a tour of the room using pictures and let you see some of what they have to offer in these suites.
I will tell you that this suite was such a relaxing and comfortable place to spend some time as a family.
When you first enter the suite you will see a small kitchen. There is ample storage for food items you might want to bring with you to save on eating costs while at the resort. I know that we have some food allergies so we brought some allergen-friendly snacks and options for the members of the family who had food allergies.
One of the things that surprised me most about the family suite kitchen was the size of the refrigerator. Not all hotel refrigerators offer near as much space. While it is a short fridge, it is wide and offers plenty of storage space. There is no freezer space so please plan accordingly.
You will also have access to multiple outlets in this kitchen area. We loved that there were USB charge options since we forgot a few of our wall socket charger ports. There is a multitude of outlets available to you throughout the suite.
There is also a nice coffee station that is well stocked with coffee and condiments if you are in the mood for a cup of coffee in the morning. I always recommend running a round of hot water thru your machine once before making a cup of coffee to clean the coffee machine.
*Personal travel tip – Bring a cup of vinegar with your when planning to use a hotel coffee pot. It will help you to thoroughly clean the coffee maker before using it. Run it through the coffee maker once and then run a minimum of two rounds of hot water through it before making coffee.
Generally, your housekeeper will restock this when they come in to clean each day.
There is a small bar where 2 people could sit to enjoy food, play a game, or prepare their bags for the coming day. This would be ideal for setting kids up with breakfast if you decide to eat in your room. (Breakfast is not included with your Cabana Bay stay.)
In the main sitting area, you will find a tv stand that doubles as a dresser with 2 drawers. There is also a television that can be watched by those in this room. These drawers are deep and offer plenty of storage space.
**Make sure the partition is shut or the remote will change the channel on both televisions.
In the main sitting area, you will find a couch that doubles as a bed. You will also find 2 comfortable chairs and a few lamps to help light the area. I found that the couch was extremely comfortable to sit on after a long day in the parks. We did not use the sleeper sofa so I can't say whether it is comfortable or not.

If you are trying to add some additional people to your room, this additional sleeper sofa adds some sleeping space.

***This feature is great. Please remember that the hotel will charge $15 per adult over 2 adults in the room. If you are planning to use this suite for your family please keep this in mind.
One of the brilliant ways that Cabana Bay Beach Resort takes advantage of the space and gives parents and children some separate time is this partition. You have the ability to open it up and spend time communicating as a family If you want to let children nap or want to watch something separate on the television, you can close the door. It is not soundproof but it is a great way to put a little separation between the two.
I highly recommend taking advantage of this for nap times when trying to take a break from the parks or the pools.
The suite will have 2 beds that look like the one pictured. I will be 100% honest. This was one of the most comfortable hotel beds I have ever slept in! Now, pillows. I have decided I am a pillow snob and need to pack mine but the bed was so comfy.
In the room, you will find two dresser doors on the side of the bed that you can use to store clothes. The picture above shows the space in the drawer. We were able to fit quite a bit in our drawers without a problem.
Between the two beds, you will find a small table with an analog clock a phone, charging ports, and a hotel phone. These chargers will not have a USB plug charger. Please bring a charging brick for using these chargers.
There is a spacious walk-in closet in the room. It is equipped with an iron and an ironing board as well as bedding for the couch sofa and a place to hang up clothes. This is a great option to keep your luggage and belongings out of the main portions of your room so you can feel more relaxed in your room.
Your bathroom is split into 3 portions. The main area opens to the sleeping portion of the suite has a vanity, your towels, and a large mirror. You will also find a blowdryer and tissues here. There isn't much to the toilet area. However, it does have a door and is its own closed-off area.
There is also ample storage for amenities or other items you need to store to get ready for the parks or for a night out at Citywalk.
There is a full bath and shower to the right. It has a full vanity with a mirror. The door also has a full-length mirror if you need it. I love that the shower is behind closed doors. In a family suite, this gives multiple people the opportunity to get ready at the same time. I also like the option of closing the door and taking a full shower without anyone knocking on the door to use the bathroom as the toilet is in a separate portion.
Another thing that grabbed my interest when it comes to theming is the soaps. They had older soap brands and wrappers that definitely fit the theme of the resort.
My Room Takeaways: 
We LOVED this room! I definitely recommend spending the money on a suite as you will have the luxury of a hotel with the comfort of home.
Cabana Bay Beach Resort Pools
Cabana Bay Beach Resort has 2 pools that offer 2 completely different experiences. The pool pictured above is directly behind the main lobby. At this pool, you will find a waterslide as well as a large pool. This is also a zero-entry pool which makes it accessible to people of all abilities.
There is ample seating outside of the pool. You can pay extra to reserve a covered area or take advantage of the free beach chairs depending on your needs and your budget. This seating is available around most of this pool giving you the ability to see your children from most vantage points.
You can pick up your towels at the pool and drop off your used towels before you leave. This is fantastic because it means you won't clutter your suite with wet towels from pool time.
There are also restrooms at the pool area so you don't have to leave the pool to use the restroom.
The pool area also has a grassy area where kids can play as well as an area with ping pong tables.
At Atomic Bar you can find a variety of adult and non-adult drinks. There is also a small food section to the left.
You can see an example of the menu and drink options pictured above. We had the classic mocktail without sprite and it was delicious! I definitely recommend a cold drink poolside if you can fit it in your budget.
There is also a splash pad in this area for kids who are tired of swimming but still want to have fun in the water.
The second pool will offer you a gorgeous view of Volcano Bay as well as a lazy river.
There is a fire pit near this pool. You can buy all the items you would need for smores in the gift shop and sit to spend some sweet family time around the fire.
If you get hungry while sitting poolside you can head to the Hideaway Grill to grab a meal or a sweet treat.
There are also poolside movie options. Each pool will have a different offering. This can be a really fun option for kids.
My Pool area takeaways: 
I think that you could easily skip a day in the theme parks and spend an entire day in the water at the two pools. Unless you have a water park addict, you could even skip Volcano Bay and spend most of your time in these great pools!
Cabana Bay Beach Resort Bayline Diner
The Bayliner Diner is a take-and-go restaurant where you can select from a large variety of food options. We only used this restaurant for breakfast options so I can't share much about lunch here. That said, we found this to be a great option for us.
Once you pick out your food you can either take it to your room or eat it in this dining area. The screens will play era-specific commercials and video clips you are sure to enjoy.
For breakfast, my husband chose the breakfast pictured above and paid just under $10 for it.
I am on a restricted diet due to some food allergies so I chose to go a different route. I was able to get a side of bacon, a banana, and that large container of fresh berries, grapes, and mango. I paid about $1o for my breakfast as well.
The kids asked us to bring pancakes for the hotel room so they didn't eat a full meal in the diner. However, they did as kids do and ended up eating more of the plates than we did.
My Bayliner Takeaways: 
Considering the typical price of resort food, I think the quality and value was very reasonable.
The Universal Gift Shop
The prices and offerings in the gift shop will mirror a lot of what is offered in the theme parks and at Citywalk. You can also find items like Tylenol that you may have forgotten to purchase.
Park Transportation
Just past the gorgeous era-specific cars, you will find the bus loading and unloading area. The buses run every 10 minutes and are a great way to visit the parks without having to pay for parking or drive anywhere.
While I didn't stop at Swizzle for a drink I wanted to give it an honorable mention because it is GORGEOUS! It seriously just fits the theme of the hotel so beautifully. Some times in the day you can also see a live musician near this location in the lobby.
There is so much more to find at Cabana Bay Beach Resort
We couldn't explore all that the resort has to offer. There are bowling alleys and game rooms and so much more!
Have you been to Cabana Bay Beach Resort? What is your favorite part of this resort?
See the video
Cabana Bay Beach Resort Florida Resident Discount
Are you planning a vacation to Universal Orlando? Did you know that you can get a Florida resident discount with Cabana Bay Beach Resort? Book a weekday when fewer people are in the parks and you can get savings of up to $140 per night at Loews hotels and resorts.
What's the busiest day of the week at most theme parks? It's not Monday, that's for sure. Floridians know weekdays are when you'll find fewer people in the parks and serious savings at the hotels. Save up to $140* per night when you include a few weekdays in your stay.
There are discounts on Loews Portofino Bay Hotel, Hard Rock Hotel, Loews Royal Pacific Resort, Loews Sapphire Falls Resort, Cabana Bay Beach Resort, and Aventura Hotel.
Want to read more about Universal Studios Orlando?
Universal Studios Orlando for Families <— Don't miss this guide to taking the family to Universal!
Mardi Gras at Universal Studios Orlando for Families <—- Should you take your family? I think so!
10 Things I didn't know about Universal Studios <—- See more!
10 MORE Things I didn't know about Universal Studios <— What did I add?