In our house we are huge Harry Potter fans! I read all of the books allowed to the kids a few years ago and they became fans too. This week I put together a fun butterbeer slime recipe that would make a fantastic stocking stuffer or gift for a Harry Potter fan! My friend over at Surviving a Teacher's Salary shared the base recipe with me and I tweaked it as needed.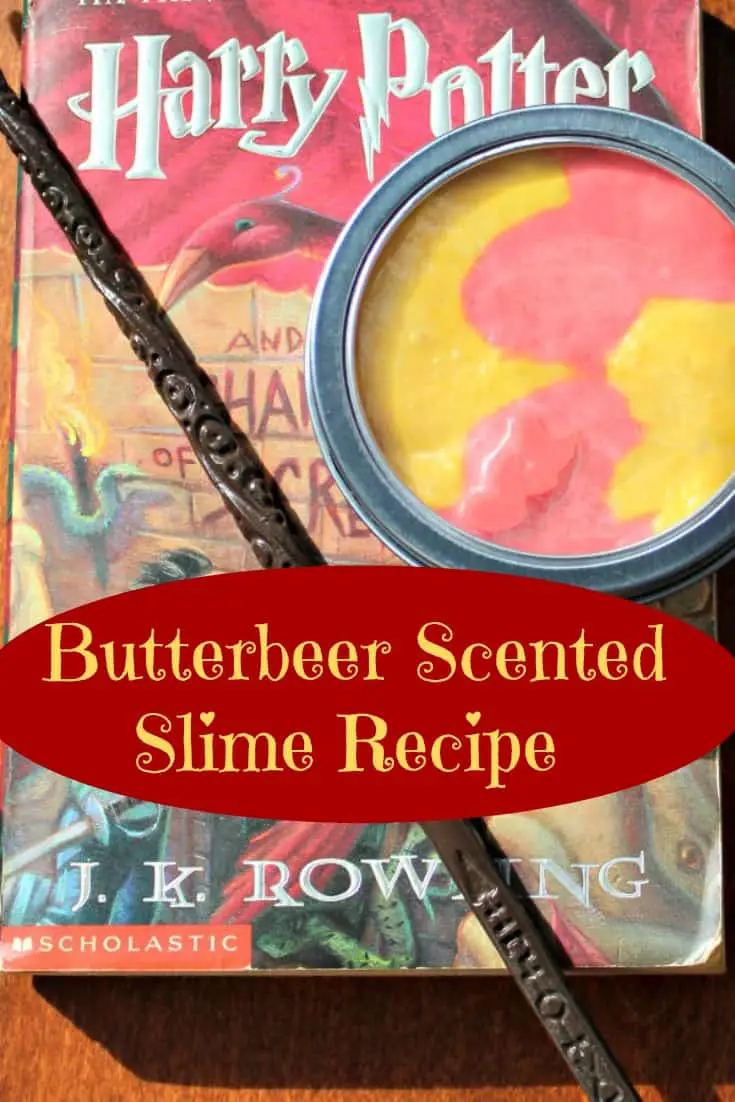 Harry Potter Slime
The ingredients below have 2 next to each item because you will make 2 batches of slime in order for this to work. You will want to make more if you intend to make batches for each Hogwarts house.
Butterbeer Slime Ingredients
2 – 4 oz container of glue (we prefer Elmer's)
2 – 1/2 cup shaving cream
2 – 1/2 cup foaming hand soap
2 – 3 pumps hand lotion
2 – 1 tbs cornstarch
2 Colors of Food Coloring (This will depend greatly on the Hogwarts house you choose to make.)
Butter Extract
Rum extract (non-alcoholic, it's just a flavor.
1 cup warm water
1 tsp borax
Container for slime
Start by adding glue. 
Add 1/2 cup of shaving cream and mix well. 
Add 1/2 cup of foaming hand soap and mix. Add 3 pumps of hand lotion. Add 1 TBS Cornstarch and mix well.
Add 2 parts rum extract to every 3 parts butter. – We used the lid as a measurement for this.
Add Yellow food coloring until you get the color you like. 
In a separate bowl, mix together 1 TSP borax and 1 cup warm water. 
Add 1 tsp of this mixture to your glue mixture at a time until your slime is the consistency you want.
Set your slime aside and make your red slime.
Begin your Red Slime
For your red slime you will do everything above and stop after the extracts. Add red food dye until your slime is the color of red you want.  Add your borax mixture until the slime is the consistency you like. 
Swirl your red and yellow slime together and place in the container.  Let the kids have fun with it or use it for a gift or stocking stuffer. 
Want to make Hogwarts slime? Change out your colors depending on the Hogwarts house you choose!
Check out the video!
Looking for more slime recipes?