Born & Bread Bakehouse Lakeland Florida
This is not a paid post. We paid for our own food. However, we really wanted to share this neat place with you! 
We've heard a lot of talk about a called Born & Bread Bakehouse in Lakeland, Florida. Lakeland is halfway between Orlando and Tampa. It is a bit of a drive if you are in Orlando or Tampa. It is about 40 minutes from Legoland. This place is actually only open once a week and the line usually wraps around the building. I'm going to share our experience with you and answer some of the questions you might have.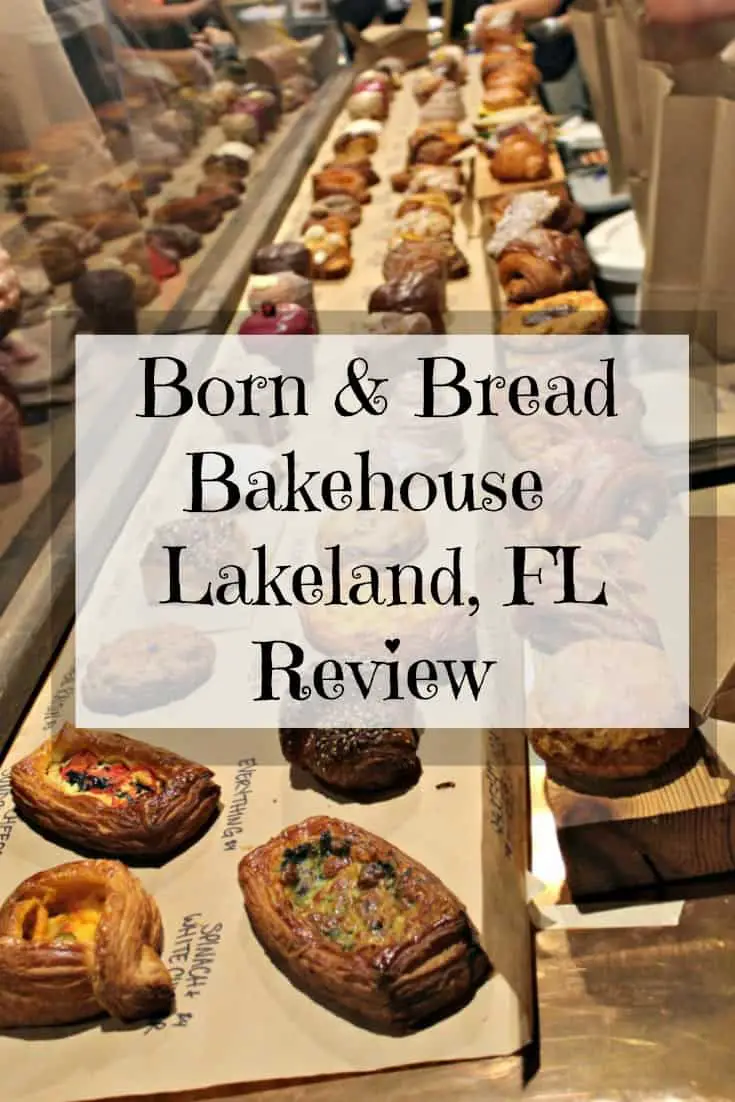 Born & Bread Bakehouse Lakeland Florida
I'm going to answer some questions first and then I will share an honest review with you. Make sure to scroll to the end for the YouTube video where I show you more of the place and share the owner's vision behind the place. 
When is Born & Bread Bakehouse Open? 
The restaurant is only open from 8 AM to 1 PM on Saturdays.
It is located at 
1113 S. Florida Ave.
Lakeland, Florida 33803
Where can I find the Born & Bread Bakehouse Menu? 
The menu is posted on the Born & Bread Facebook page on the Friday before they open. Menu items will vary depending on the season and you may not always see your favorite item make it onto the menu. 
What does the pricing look like? 
There are menu items starting at $3 and ranging up from there. Your higher ticket items will be full cakes and pies. That said, we were able to get 4 cruffins, a breakfast sandwich, a large chocolate chip cookie, and 2 iced coffees for $22. That is a great option for a family of 4 to have a nice morning out. 
How bad is the line? 
Depending on what time you arrive, you will be waiting in a line. We arrived at 7:00 and the line already went 3 buildings down. We were lucky because they opened early and we only waited 20 minutes. The wait gets longer the later in the morning you decide to go. 
It can be tempting to go later but they do sell out of certain items as the morning progresses. If you have your heart set on a specific item, you may be disappointed if you go later in the morning.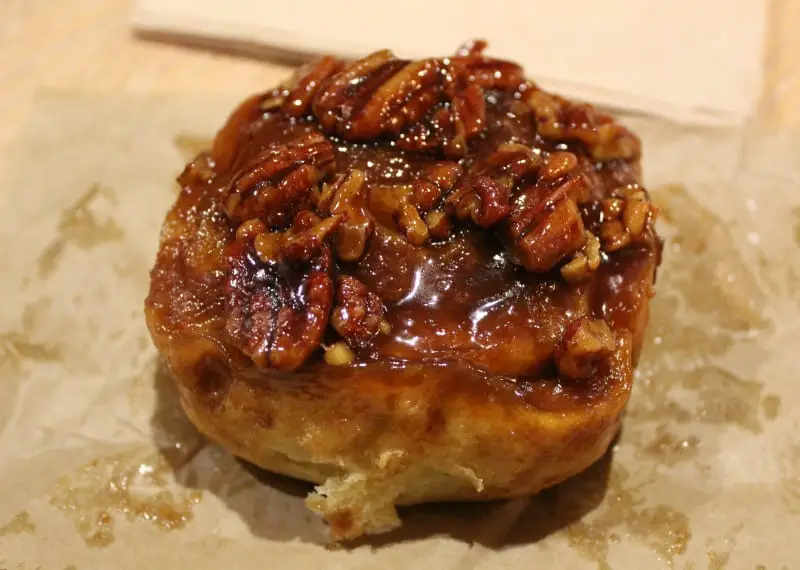 Is the food at Born & Bread Bakehouse any good? 
Morning Bun – My husband had the opportunity to try a bite of this from a friend. He said the breading is similar to Knausberry Farms in Homestead Florida but the topping was more rich and flavorful. 
 It was a mild breakfast sausage and wasn't spicy. The honey dripped off the top of it because there was so much. The flavor combination melded together and everything complimented each other perfectly. 
Apple Fritter Cruffin – This cruffin was shared between my husband, children, and my husband's grandmother. They all loved it and said the flavors were so incredible! 
Milk & Honey Cruffin – This is AMAZING!!! The cream on the top is all the way through the middle of the cruffin. The outside is covered in honey and it is worth every second in the line to enjoy it. 
What about the overall experience? 
From the moment you walk in the door until you finish your last bite, you will enjoy a home-like atmosphere filled with people who seem to genuinely enjoy their job and enjoy serving you a delicious treat.
The owner even takes some time to walk around and greet those sitting at the restaurant. I can't recommend this place enough! 
Don't miss the YouTube video! 
I have put together a video with some insight from the owner of the establishment and showing you more about the place. Make sure to check it out.