20 Great Books to Read to your Kindergarten Child
In our family, one of the best times of the week is Library Day. My kids love to scour the shelves and find great books. I love to pick out fun things to read aloud with my kindergarten child. Out of all the books, we have read, there are twenty so far that we really love. Here are the top 20 books for kindergarteners!
Books to Read to your Kindergartener
When my children were younger we started in the A authors and worked our way through the books until we read every author our library offered. We would grab piles and sit and read together! This has helped us to find some classic picture books as well as some new favorites! I often gift books to kindergarten kids and find that many of the books I give, aren't already in their collection. Check out some of our favorites below.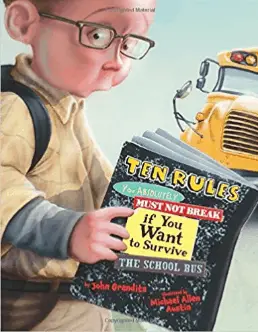 "Kyle is dreading his first trip aboard the school bus. Luckily, his big brother, James, is a school bus expert. James gives Kyle ten rules for riding the bus that he absolutely, positively must obey if he wants to avoid getting laughed at or yelled at, pushed around, or even pounded. During his fateful ride, Kyle grapples with each unbreakable rule. Along the way, he discovers that the school bus isn't so bad, and he may even have a thing or two to teach his brother."
"When Sunrise Elementary School advertised for a thick-skinned librarian with a burning love of books, Miss Lotta Scales knew she was perfect for the job. Who could guard books better than a REAL dragon?
Yet when she won't let any of the children take a book from the shelves, the teachers form a delegation. Not even sweet Miss Lemon can convince Miss Lotta Scales that "the library belongs to the children." Fortunately, when nearsighted Molly Brickmeyer stumbles onto a copy of Snuff the Magic Dragon and reads the tale out loud, her storytelling beckons the children back to the library and brings them face to face with the Library Dragon. Can an open book temper the flames of the school's hotheaded librarian?"
"When Kirby Kelvin gets the giggles during a spelling test, severe Ms. Frost marches him down the hall to Mr. Gloomsmith's office for not-laughing lessons."
"The Pirate is friends with Scientist. The scientist is friends with the Viking. Pirate and Viking are NOT friends. What can the Scientist do? Use his brain, of course–and the scientific method! He forms a hypothesis, conducts an experiment, observes his results, and tests his subjects again and again until he discovers the perfect formula for friendship. Includes a bonus list of scientific terms and definitions, just right for young readers."
"A breathtaking picture book by award-winning author Ari Berk, illustrated by mega-bestseller Loren Long, about a young bat setting off into the world using only his good sense!
Sense is the song you sing out into the world,
and the song the world sings back to you.
With these words, Chiro's mother sends him off into the night for the first time alone. It's an adventure, but how will he find his way? And how will he find his way home? As the young bat discovers, navigating the world around him is easy as long as he uses his good sense.
This beautiful and touching coming-of-age story, with mesmerizing artwork from New York Times bestselling illustrator Loren Long and lyrical text from Ari Berk, conveys a heartwarming and universal message: No matter how far away you go, you can always find your way home."
"BEWARE OF CRANKENSTEIN! He's a little monster of crankiness that no one can destroy! MEHHRRRR!!! He may look like any ordinary boy, but when faced with a rainy day, a melting popsicle, or an early bedtime, one little boy transforms into a mumbling, grumbling Crankenstein. When Crankenstein meets his match in a fellow Crankenstein, the results could be catastrophic–or they could be just what he needs to brighten his day! This hilarious and relatable tale of grumpiness gone awry will turn toddler tantrums to giggles in no time."
"You might think a book with no pictures seems boring and serious. Except . . . here's how books work. Everything written on the page has to be said by the person reading it aloud. Even if the words say . . .  
BLORK. Or BLUURF.  
Even if the words are a preposterous song about eating ants for breakfast, or just a list of astonishingly goofy sounds like BLAGGITY BLAGGITY and GLIBBITY GLOBBITY. 
Cleverly irreverent and irresistibly silly, The Book with No Pictures is one that kids will beg to hear again and again. (And parents will be happy to oblige.)"
"Seldom has the caring and the guidance of a mother and the curiosity and trust of a child been so tenderly depicted as in this generously sized and beautiful picture book set in the far off Artic. A young polar bear, just out of infancy, asks his mother, "What is it like to be big?" With infinite patience, his mother shows him what to expect as he grows–how he will one day run like the wind, jump as high as a bird, and dive and swim like a fish. He will be so tall he will almost touch the sky! In the Artic world created by Jane Chapman's subtly hued, glowing paintings, the love between mother and child shines forth."
"At first, everything goes smooooothly. But . . . Flossie gets bus-sick. Goldie goes AWOL. Bathroom breaks are a nightmare. And the whole herd storms the gift store like bulls — er, cows in a china shop!Niagara Falls will never be quite the same. If Manny doesn't find a way to get these cows back on the farm, the vacation may turn into an udder disaster!"
"In the rainforest, a frog with a very big mouth catches an enormous fly. The frog brags to a toucan, a coati, and a capybara. Wanting to brag just a little longer, he tells a jaguar. Guess what jaguars like to eat?"
"Fairy tale characters tell their stories from their own perspective, with new endings, and find themselves encountering each other as their stories overlap. By the creators of Mockingbird."
"Sydney Taylor Award Winner"A moving tale of love and regeneration." —The New York TimesWhen my grandfather came to America he made himself a handsome coat!Then he wore it and he wore it and he wore it–until it was all worn out!So what did he do? He snipped and he clipped– and he stitched and he sewed. . . and out of the still-good cloth of his coat–he made himself a smart jacket!How many things can Grandfather makeout of that old frayed coat? Jim Aylesworth's satisfying retelling and Barbara McClintock's heart-warming pictures celebrate the clever recycling of a beloved coat that lasts four generations — until it becomes this story!"
"6:00 a.m. Wake up. Have two eggs for breakfast.
8:00 a.m. Arrive at launchpad. Change into special man-on-the-moon suit.
8:45 a.m. Blast off.
8:58 a.m. Arrive on Moon.
9:00 a.m. Start work.
This is how Bob, the Man on the Moon, begins his day. It's Bob's job to
entertain the tourists (handstands and high moon jumps are a hit), conduct Moon seminars (how long does it take to walk around the Moon on stilts?), sell souvenirs (pens, postcards – the usual), and keep the Moon clean and neat. Some people say that aliens are the ones who leave all the trash, but Bob tells them aliens don't exist, and he would know . . . wouldn't he?"
"Hugo is a tiny king with a very large ego. But when he mistreats a villager who also happens to be a sorceress, the spell she casts causes his head to literally swell. The more he boasts, the bigger it gets, until it finally topples the mini monarch right off his castle! Who will cut this royal pain down to size? And, more important, will anyone live happily ever after? Chris Van Dusen's hilarious story is matched only by his outrageous illustrations. Together, they make for a picture book that is sometimes fairy tale, sometimes cautionary tale, and always laugh-out-loud funny"
"Every morning Molly's parents remind her to come home after school with her mittens, and every day Molly forgets. Nothing works–not Velcro, not crochet chains, not even duct tape! But, Molly is not alone. All the kids at school forget, and soon there is a mountain of mittens in lost-and-found that has grown out of control.
WARNING: Lynn Plourde's story is so distractingly funny that you might misplace your own mittens!"
"Don't copy me!" It's a refrain that's well-known to children, parents, and caregivers. Now it's Little Puffin's turn to say the words as three cheeky gull chicks follow him around, imitating his every word and step. And the more the puffin protests, the more the gulls enjoy their silly game. Can Little Puffin find a way to turn his frustration into a clever plan? With his usual wit and flair, author and artist Jonathan Allen turns a simple concept into a wildly entertaining tale."
"Ruby lives in the city and Grandpa lives in the country. They write to each other and share the events in their lives. Ruby tells about the flights of stairs in their apartment block and the sights of the city. Grampa tells Ruby about the naughty magpies that live in his old oak tree. Through the Magpie Song, the events of the story unravel – three magpies for Ruby the magpie girl, one for a heart-breaking goodbye and six for a wonderful surprise that will change Ruby's life forever."
"In this charming sequel to the classic Cloudy With a Chance of Meatballs, Kate and Henry eagerly await Grandpa's return from a vacation that his postcard says has been one of the best and most unusual ever. Thinking about that postcard Kate drifts off to sleep that night and…
"With Henry as my co-pilot…" she visits the strange land of Chewandswallow — a land characterized by massive amounts of food, immense carrots, leafy jungles of lettuce, and tuna fish sandwiches so gigantic they have to be moved by helicopter. What the people of Chewandswallow are doing with all that food is most intriguing of all. Fans of Cloudy With a Chance of Meatballs will applaud this return trip with its underlying message of generosity and a world community."
"Ever wonder what goes on inside the mind of a toddler?
Are you sure you want to know?
Okay, here goes."
From soaring to high heights and seeing great sights to being left in a Lurch on a prickle-ly perch, Dr. Seuss addresses life's ups and downs with his trademark humorous verse and whimsical illustrations.
"My Shadow Is Pink is a beautifully written rhyming story that touches on the subjects of gender identity, self-acceptance, equality, and diversity. Inspired by the author's own little boy, the main character likes princesses, fairies, and things "not for boys." He soon learns (through the support of his dad) that everyone has a shadow that they sometimes feel they need to hide. This is an important book for a new generation of children (and adults alike) which exemplifies the concepts of unconditional love, respect, and positive parenting."
Looking for more?