In our family one of the best times of the week is Library Day. My kids love to scour the shelves and find great books. I love to pick out fun things to read aloud with my kindergarten child. Out of all the books we have read there are twenty so far that we really love. Here are the top 20 books for kindergarteners!
20 Great Books to Read to your Kindergarten Child
Each of these books should be available at your local library. If not, I have included the Amazon link for each book so that you can purchase it if needed.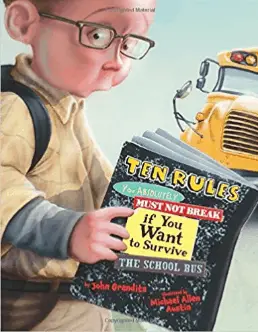 Ten Rules You Absolutely Must Not Break if You Want to Survive the School Bus – This was cute and would be great for a kid going to school for the first time.
The Library Dragon – Do you have a reluctant reader? Is library day a sad day for one of your kids? This book is a must read! We loved this one!
Kirby Kelvin and the Not Laughing Lesson – My kids laughed so hard at this book. If you are looking for a fun read this is a must!
Pirate, Viking & Scientist – We all loved this book. It was a simple way to introduce kids to the Scientific Process.
Nightsong – This book was fantastic. I loved the fun way they explained sonar location so that kids could understand it.
Crankenstein – This one made me chuckle the whole way through. I have 2 Crankensteins who visit the house on occasion.
The Book with No Pictures – This is C's absolute favorite book to have any adult read to him! He really loves it!
Touch the Sky, My Little Bear – This book was absolutely adorable. I highly recommend it.
Manny's Cows: The Niagara Falls Tale – This book was a combination of a fun story and some great facts about The Niagara Falls.
The Frog with the Big Mouth – This book had a great lesson included about boasting.
The Bravest Ever Bear – This is a really fun twist on the typical fairy tales!
My Grandfather's Coat – We really enjoyed this book. It's a great story about the value of things.
Man on the Moon (a day in the life of Bob) This was C's favorite book this week. He asked me to read it to him at every story time! I am pretty sure I know it by heart at this point. Check it out and see if you can find all the aliens.
King Hugo's Huge Ego – This one made us chuckle. It's also a great object lesson about humility.
A Mountain of Mittens – This book was adorable. We read this book a few times and really got a big laugh out of it. 
Don't Copy Me! – This book made me laugh and the kids laugh quite a bit! It really was a fun read.
Seven for a Secret – This book was very sad. I do not recommend this book without tissues. I also don't recommend this book if you have ever lost a loved one as you will be grieving by the time it is over.
Pickles To Pittsburgh The Sequel To Cloudy With A Chance Of Meatballs : A Sequel To I Cloudy With A Chance Of Meatballs – This was a really fun read. We really enjoyed the imagination of it all.
Must. Push. Buttons! – This book sums up a 2 year old completely! If you have a child with an annoying younger sibling this would be a great read for understanding.
Oh the Places You'll Go – This is a classic but it will always be a favorite. I definitely recommend adding it to your reading list.
Looking for more?