Bad Disney Vacation | Avoid Bad Disney Trips
We are a Disney family through and through. It's a really magical place for us and we absolutely love it. However, Disney isn't always magical. There are some days when it downright sucks! A lot of people talk about the pixie dust and the magic but I wanted to take some time to talk about the other side of the coin. There are ways to have a bad Disney vacation but I'm here to help with tips to help you avoid a bad Disney trip.
Bad Disney Vacation | Avoid Bad Disney Trips
Every commercial for Disney paints a beautiful picture. Everyone is smiling, riding rides, and meeting their favorite characters. Pixie dust is sprinkled on everyone and special memories are being made. It can leave families with the impression that if they pay the high ticket prices and hotel fees they can make magical memories with their families.
So you do it right? You save all of your money sometimes for years at a time. When planning a Disney trip there's this image of a magical parade while eating a Mickey bar or that special moment when they meet their favorite character and have a moment that they'll never forget.
How do you get the magic without some of the downsides of Disney though? 
That's right. I said downsides. Disney can be a really magical place with the right planning and some helpful tips. However, without some of this you can have a downright bad Disney trip and regret the money spent. Check out some of my tips and some honest stories about some of our harder Disney days.
Expensive Disney Tickets, Hotels, and Experiences
One of the harder parts about booking a trip to Disney is the price. For the average family, it can easily cost thousands for a few magical days. With more families living paycheck to paycheck this can quickly get overwhelming and put some serious pressure on the trip.
Many friends have said, "For that much money, I better have nothing but the best of times." That's the way it feels though right? For thousands of dollars, it can be easy to put some serious pressure on the trip. So what do you do to cut some of the expenses and adjust your expectations?
Stay at value resorts or off-site
Disney resorts are absolutely amazing! They pack in some incredible experiences and rooms that are larger than life and beautifully themed. We've had the privilege of touring some of them and even staying in a few. However, they will not make or break a Disney vacation. There are ways to save money on your stay.
Try a value resort.
Disney has some incredible value resorts that are a fraction of the price of higher dollar resorts. Even better, these value resorts still offer transportation to the parks and some even have larger rooms to accommodate larger family sizes. When you are booking your stay, look at some of the value resorts that are available.
On the Disney website, you will navigate to the value resort hotels portion of the places to stay tab in order to find the value options available to you. Many of your value resorts will have access to Disney transportation, special themed rooms, and special Disney magic. Book your hotel and tickets together to take advantage of any promotions that might be running.
Read more about Disney Value Resorts
Best Disney Value Resorts from Disney Tourist Blog
Best Disney Value Resorts from Magic Guides
Best Disney Value Resorts from Mouse Hacking
Best and Worst Disney Value Resorts from The Frugal South
Take advantage of off-site hotels. 
When booking your travel it can be tempting to stay at a Disney property but that doesn't need to be your only option. There are some high-quality properties extremely close to Disney for a fraction of the price. These can be a great way to help you keep the budget in check.
Three things to keep in mind when booking offsite hotels for your Disney vacation.
Check on park transportation. Many resorts will offer transportation to the parks. However, not all transportation is created equal. Make sure to look at how frequently the transportation options run. You don't want to be stranded at the parks or end up ubering back.
Check proximity to the parks. While many hotels will offer you a large discount, they will be incredibly far from the parks. This will increase overall travel time and decrease your time in the parks.
Check out vacation homes and rental properties. Sometimes the best way to save on taking the family is to take advantage of vacation homes and rental properties. These won't have shuttles which will be a trade-off on parking fees but could be great because of the ability to hold larger groups and prepare your own food.
Skip pricier experiences
There are some incredible things you can see and do at Disney. There are also some really brilliant separate ticketed events and experiences to pay for. While some of these events are incredible and definitely worth the money, they aren't always in the budget. Many will tell you to do it anyway because you are only young once. I want to challenge you to skip experiences you can't afford. Focus on making the magic in the moments you can fit into the budget comfortably.
Try to do everything in one Disney trip
Another big way to work against a Disney trip is to try and do it all in one trip. With four parks, two water parks, two mini-golf courses, countless restaurants, and Disney Springs, it is almost impossible to do everything in one trip. One of the quickest ways I have seen families ruin their Disney trip is by trying to see everything there is to see and experience everything there is to experience. This just isn't possible!
We have lived in Central Florida for over a decade. We visit Disney multiple times a year and still find new experiences offered by the parks. Add to that the fact that new attractions are being constantly added and lines can be crazy long and you're walking into an impossible goal.
5 Ways to Prioritize the Important Things on Your Disney Trip
Make a list of each person's top 3. Depending on when you go, the crowds can be very large. Instead of trying to conquer everything, have each member of your family or group list the top 3 things they want to see and do. Having this list can help you to make sure you make these things a priority.
Make reservations. There will be experiences you will want more than others. Make the time to reserve those experiences. This can mean booking fast passes in advance or book a character dining experience you really want.
Know what you're willing to skip. With so much to see and experience at the parks, it can be tempting to want to see everything. Take some time to figure out which things you are comfortable with skipping. Sometimes skipping a parade means you will get a character meet and greet you have your heart set on.
Account for line time. A lot of people don't realize how much time at Disney can be spent standing in line. While you may want to ride all of the big rides in the park, this may not be practical due to line lengths. Look at your Disney app to see what lines look like and decide if you should skip that ride or experience.
Schedule in breaks/naps. Don't underestimate the value of a good nap or break on a Disney day. Trying to go from open to close every day of the trip can leave you exhausted and cause you to miss out on some of the best experiences.
Don't have a game plan for special needs at Disney
I have a child with special needs. She has sensory issues with sudden loud noises and with being in wet clothes. We used to go to the parks without any game plan. While this may seem like no big deal, it can quickly backfire in the parks. There are so many people and noises at the same time and it can be a lot for a child or adult with special needs. Avoid a bad Disney trip with special needs with some of these tips!
While it can be tempting to just wing it, it's just not practical when you are accommodating special needs. It's so important to have a game plan for handling Disney with special needs.
5 Tips for Special Needs at Disney
Watch Ride and Show videos on YouTube. – Spend some time on YouTube watching ride and show videos from the parks on YouTube. This will give you the ability to see where any drops, loud noises, or other experiences are that might be too much for the person in your party with special needs. This is a must for us before we ride any new rides at the park with my sensory kid.
Research quiet places to meet special needs. – Whenever we visit the Magic Kingdom, my daughter and I always spend the fireworks in the bathroom Pirates of the Caribbean because you can't hear the fireworks in there. Take some time to find the quiet shows and places you can step away from the chaos of the parks. The infant care area is another great place to step away from the chaos for a bit if needed.
Schedule break times in your day. – The hottest part of the day in Florida is typically from 1-4. This is a great time to head back to the hotel or schedule a sit-down meal reservation. It is a great time to hit reset for those with special needs so you can end the evening well.
Take advantage of the Disability Access Service Pass. – If you stop at guest relations at the beginning of your day, you can get a DAS which is a special accommodation for those with special needs. This is designed for those who can't wait in a traditional line setting. You will receive a return time for the ride so that you can avoid the line setting.
Ask guest relations about specific rides or experiences. – The amazing cast members at guest relations do a fantastic job of answering questions. Take some time to talk to a cast member about the rides or shows you hope to enjoy. Ask about any triggers or problem areas unique to your situation. If they don't know the answer, they will find someone who does.
Don't learn how the park schedules, fast passes, and transportation works for your Disney trip.
Disney has some great systems in place to help move large crowds of people through a variety of attractions as simply as possible. However, there are many who won't read up on these programs/systems and find themselves terribly frustrated when they get to the parks. In order to avoid a bad experience at Disney, you will want to learn how certain things work.
5 Things You Need to Know Before your Disney Vacation
Fast passes need to be booked in advance! There are many people who visit the Disney parks thinking that the three fast passes that come with your tickets are able to be used whenever. However, this isn't the case. Instead, you need to book these in advance for a specific time. I HIGHLY recommend booking these fast passes as soon as your window opens to be allowed to.
Put some time between fast passes. Another big mistake made by many is putting fast passes back to back on opposite sides of the park. Keep in mind that you will need to walk from point A to B and that sometimes things like bathroom breaks will slow down your plans.
Take advantage of Extra Magic Hours. Many of the Disney hotels will give you extra magic hours so that you can get into the park before other people are able to go in. This is a great time to head to a ride that is on top of your list. While sleep can be great, the advantage of extra magic hours shouldn't be missed.
Research transportation options. Disney has a variety of transportation options to get you to the parks. You can drive yourself, take a bus, a ferry, or even ride the gondolas. With all of these options, it can be confusing as to which is best. Take some time to see which options are available to you at your resort or hotel.
Add transportation time to your plans for the day. Depending on the type of transportation you use, you can add up to an hour going back and forth from the parks to your agenda. There will be lines at some of the transportation options. Knowing to expect this will save you stress when you get to the parks.
Plan every moment of your Disney vacation!
When planning a Disney trip it can be so tempting to plan every moment. I know of people who have schedules made with every second of their trip planned. There is no wiggle room. While this can feel good for the type A person, it's a quick way to train wreck your Disney day! Avoid a bad Disney trip! Do yourself a favor don't plan every moment!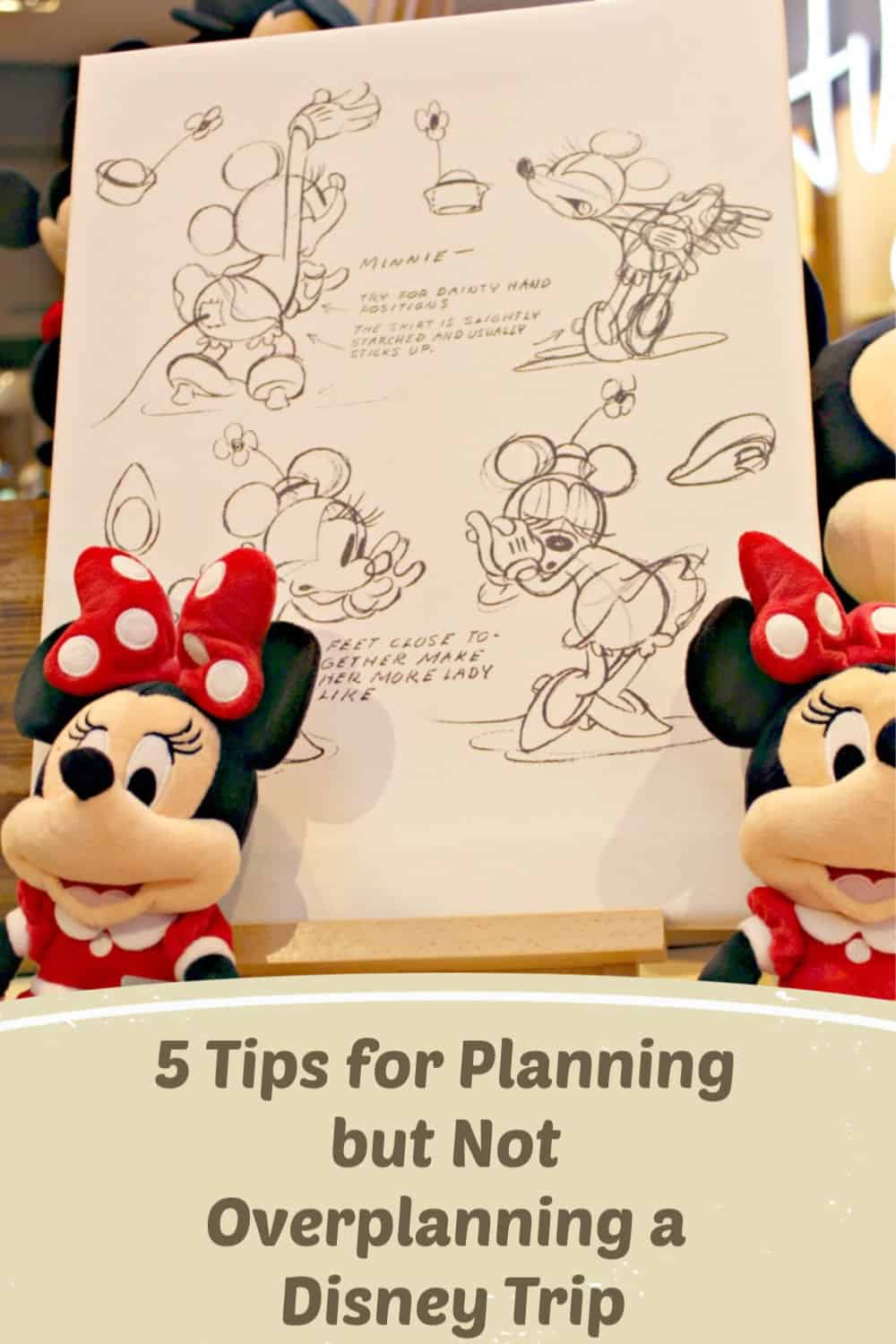 5 Tips for Planning but Not Overplanning a Disney Trip
Put some time between fast passes. When booking fast passes it can be tempting to try and get things scheduled close together. The only situation where this will work is if the attractions are right next to each other. Otherwise, it is so important to put some time between fast passes. This will give you time to get from A to B and leave some room for bathroom stops or extra magic that comes your way.
Make dining reservations sparingly. If you are trying to make the most of your time in the parks, make sure to be careful how much of your day is filled with dining reservations. Some of your themed meals can take up to two hours out of your park day. If you do more than one of these sit down reservations you will lose time elsewhere.
Write your schedule in pencil. When you are working on your park day schedule, make sure to write it in pencil so to speak. In other words, leave room to erase things from the schedule, move things around, or add in something new. You never know what magic you will find.
Don't forget about the characters. Many people will plan their Disney days and forget to include the time they will want to spend on character meet and greets. If your children are going to want to meet with a certain character, make sure to add that to your list. Some of them will have longer lines than others.
Add in parades and special shows. Disney has some show-stopping parades that are sure to be a fun addition to your day. Items like shows and fireworks are also worth a stop. However, these will mean a little bit of pre-planning. You may need to get to your parade or show seat up to an hour beforehand depending on the popularity of the parade or show.
Don't plan for the weather at Disney
One of the quickest ways to sabotage a Florida trip is to skip planning for the weather. Florida weather can be moody and change on a minute's notice. You can head into the park with the biggest plans and be hit by the heat, rain, or a combination of both. Not planning for the weather can have some bad consequences for you if you aren't prepared and lead to a bad Disney trip.
5 Tips for Planning for the Florida Weather at Disney
Check the forecast. I highly recommend checking the hourly forecast for the days you are planning to go to the parks. Looking at the forecast for the day instead of an hourly forecast is a quick way to end up in bad weather.
Bring along rain gear or a change of clothes. Florida gets plenty of rain. In fact, it almost always rains around three in the afternoon here. Bring along rain gear or a change of clothes in case you get caught in a downpour.
Hydrate! Hydrate! Hydrate! The Florida heat can be brutal for those who live here much less for those visiting from somewhere with cooler weather. One of the best things you can do is to consistently hydrate. When I say hydrate, I mean water. Don't fill up sodas and sugary drinks. Getting dehydrated at Disney is no joke!
Dress in layers. Dressing in layers gives you the opportunity to remove layers as it gets hotter or add layers if you go into a cooler building.
Book sit-downs during rainy/hot parts of the day. If you are planning to do a sit-down dining reservation, book it for the hottest parts of the day so that you can enjoy the air conditioning while enjoying a delicious dinner.
Don't plan for food allergies on your Disney vacation
As a person with food allergies, I know how hard it can be to eat out. It can be even harder in the parks. With so many incredible restaurants you can find yourself wanting to eat everything and feeling like you can eat nothing. This can lead to a really bad Disney trip. However, there are some incredible food options for those with allergies. With a little pre-planning, you can have an incredible time and still enjoy food safe for your allergies.
5 Tips for Food Allergies at Disney
Always ask for an allergy-friendly menu. Many locations will have a menu breakdown to show you if you ask for it. I know that for me, these menus are a huge help!
Ask to talk to a chef. Every restaurant at Disney will allow you to speak with one of the cooks about your food. You can ask about cross-contamination concerns, specific food allergies, and modifications that can be made.
Bring food in with you. You can also bring food in with you to eat while you are in the parks. Packing allergy-friendly foods is a good way to safeguard the food allergy person in your party.
Follow allergy-friendly bloggers. My friend The Art of Adventures shares about her Vegan finds and my friend Footprints in Pixie Dust shares about many different food allergy experiences at Disney. Following allergy-friendly bloggers will help you to see which places are packed with flavor and accommodate allergy-related needs.
Plan for an incident. In the worst-case scenario that you are exposed, make sure to have what you need on hand. This may mean making sure you have Benadryl or an Epi-Pen depending on your situation. Even the most magical place on Earth can have its downside.
Don't have a game plan for taking young kids on a Disney trip
Visiting Disney with kids can be the source of some magical memories. However, there are some things about Disney with kids that can take your joy and flip it on its head. In fact, I have seen kids leave Disney with their parents kicking and screaming. One time it was my overtired son. My husband looked at him on the monorail and said don't be that kid. Spoiler alert. My kid was that kid. He screamed, cried, and complained the whole ride back to the car. He was MISERABLE. So how do you avoid breakdowns at Disney and keep from having a bad Disney trip?
5 Ways to Avoid Kids Breakdowns at Disney
Schedule in breaks and naps. Many parents will use the, "we're at Disney" excuse as a reason to skip breaks and naps. Here's the thing. Kids thrive on routine and need breaks from the sensory overload of the parks. Whether you head back to the hotel room or simply let them nap during a longer show or on the monorail loop, these breaks can be a game-changer.
Schedule in some playtime. When at Disney it can be tempting to run from one thing to the next. When you are taking younger children to Disney it is so important that you schedule in some playtime so they can go where their whims take them. There are many areas where kids can play without waiting in a line or worrying about the schedule.
Pack snacks/drinks. Kids get hungry more frequently than adults do. Save some money and some stress by packing snacks and drinks for your child. Having a snack on hand can help you to avoid hunger or thirst inspired breakdowns.
Bring small souvenirs and activities along. Disney has tons of lines. This can quickly lead to a breakdown. Pack some small activities to entertain kids while in line. Little things like a favorite small toy or a tablet can help to pass the time without the tantrums.
Honor their fears. There is a fine line between pushing your children to do something courageous and pushing them too hard to do something that scares them. It is so important to honor the fears of your child. This may mean being willing to leave a ride line or not get in the line in the first place.
Don't set a budget for your Disney trip
Disney is one of the most magical places on earth. However, it is not always the most budget-friendly place on earth. Between the constant can-I-gets from kids, the amazing merchandise that will drop your jaw, and all the extra magic you can pay for, it can be easy to break your bank account. Nothing takes the wind out of your sails with Disney more than going home in debt from overspending in the parks. So how do you avoid going broke at Disney? Skip the bad Disney trip by avoiding overspending. I have a few tips for budgeting at Disney just for you.
5 Tips for Staying on Budget at Disney
Bring special items along. – While it can be tempting to buy everything in the parks, some items can be more pricy in the parks. Shop ahead for items like Disney pins, small souvenirs, and autograph books. Bringing these items along with you can save you so much money!
Take advantage of the Disney outlets. – Disney has two outlet stores in Orlando that offer guests official park merchandise at a fraction of the cost. The items you can find at these outlets will vary greatly. However, this is a great way to save on autograph books, apparel, and some special mementos.
Put your spending money on gift cards. – Instead of swiping your card every time you visit a store in the parks, put things on gift cards. You can separate them by day or have a gift card budget for the week. When the gift card is empty, the spending stops.
Set a daily spending limit. If you are not a fan of using gift cards to manage your budget, setting a daily spending limit can be a huge help. Setting a daily spending limit can help you to avoid impulse buys or giving in on something you didn't really need to spend on.
Say no. When at Disney the magic can take over and the word no can feel like a killjoy. It's even more difficult when kids ask for something special to take home. However, it's important to know that it's ok to say no. You won't kill the magic by saying no. There will be moments of magic on your whole vacation and you won't have to buy everything kids ask for.
Forget that you aren't in a Disney Bubble
Many local Disney fans joke about the Disney Bubble. The Disney Bubble is this idea that on Disney property everything will always stay magical. Guess what, there's no Disney Bubble preventing the outside world from existing. Believing the lie of the Disney bubble can lead to a bad Disney trip! It can be so tempting to leave the world and lean into the magic. However, there are some things that you might want to keep in mind when in the parks.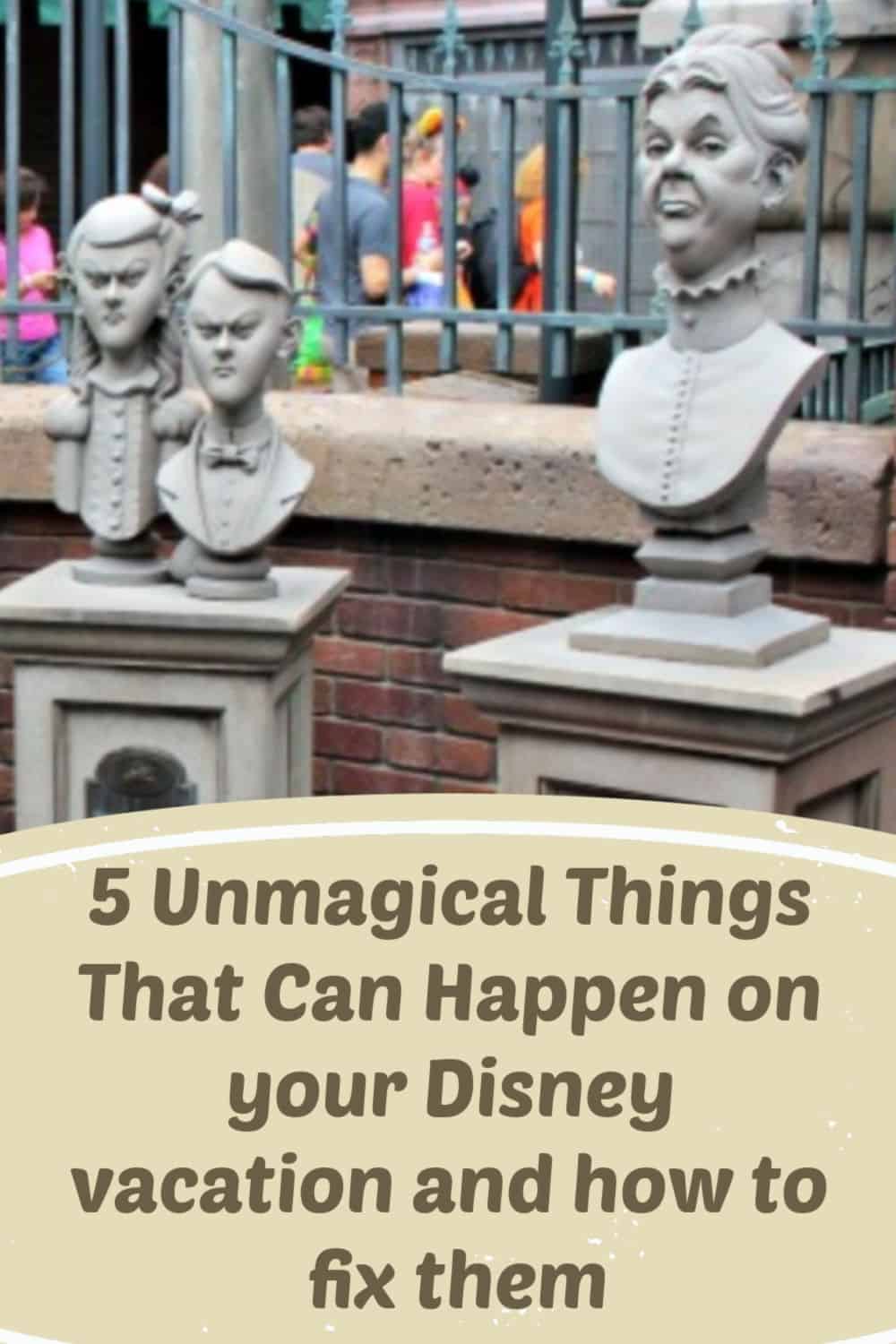 5 Unmagical Things That Can Happen on your Disney vacation and how to fix them
Disney has some pesky little friends. Squirrels have been known to sneak into strollers and steal entire lunches away. Make sure to seal up everything you have to avoid the little sneaky thieves from raiding your stroller.
Rides break. Rides break and go down for maintenance. It can be really disappointing if you were holding out for that ride. Have a backup plan to avoid being heavily disappointed by missing a favorite ride.
It pours here! Like, a lot! It rains and storms like crazy in Florida some days especially in the summer months. Have a game plan for a special day being rained out. Don't be surprised if it's rainy.
People can be really rude! While cast members are amazing, sometimes other guests can leave you ready to scream. Keep in mind that people react poorly when tired or overwhelmed. If you encounter a rude guest, try visiting a different area of the park or reach out to a cast member to help you resolve the issue.
The outside world still exists. Unless you turn your phone off for your trip, you will not miss out on the outside world. Set some boundaries with your phone and what calls/messages you will and will not take. It can also help to discuss before your trip which topics are off-limits such as the budget or an issue at work.
Looking for more Disney posts?
After Hours and Specially Ticketed Events
Mickey's Not So Scary Halloween Party Tips
Mickey's Not So Scary Halloween Party for Teens
Mickey's Not So Scary Halloween Party with Sensory Issues
Mickey's Very Merry Christmas Party on a Sold Out Night
Mickey's Very Merry Christmas Party Tips and Tricks
Beyond the Disney Parks
Splitsville Disney Springs
Educational Offerings
Educational Options at the Flower & Garden Festival
Youth Educational Program Offerings at Disney
Food and Restaurants
Blaze Pizza Disney Springs Review
Holidays at the Disney Parks
Hotels and Resorts
Disney Vero Beach Resort Tips and Tricks
Tour De Turtles at Disney's Vero Beach Resort
Seasonal TIps
10 Things to do at Disney this fall
5 Tips for Epcot's Candlelight Processional
10 Things to see at Epcot Flower & Garden Festival
Epcot Food and Wine Festival Tips
Hollywood Studios Summer Tips
5 Things to do at Animal Kingdom this summer 
5 Things to try at Epcot's Holidays around the world
Theme Park Tips and Advice
How to take your baby or toddler to Disney
Water Parks
Blizzard Beach Tips and Tricks