6 Ways to Make Summer Reading Fun!
Summer is just around the corner. Often kids get excited for a break from the constant book work and homework. Sometimes the excitement to be out of school leads to a summer without any reading. This can mean a decline in reading ability and reduce the chance that your child will become a better reader. Encouraging a child to read can be difficult but so rewarding. R struggled with reading quite a bit 2 summers ago. I had her read a page to me daily. By the end of the summer, she was a much stronger reader. She also had a lot of confidence going into the new school year. I have put together 6 tips for you so that you make summer reading fun.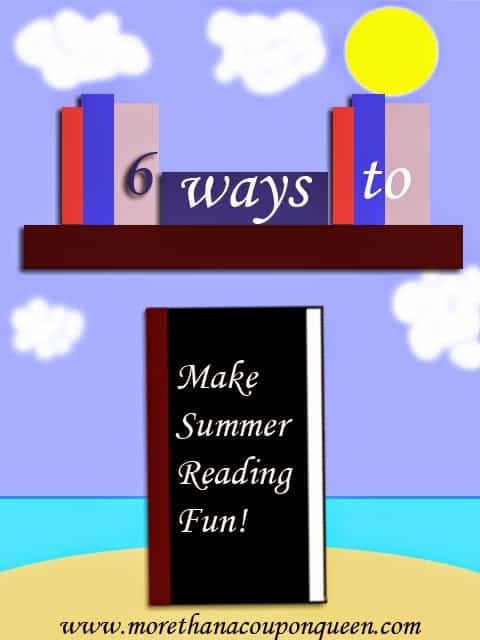 6 Ways to Make Summer Reading Fun!
 Take Advantage of Summer Reading Programs
Take advantage of the free summer reading programs that are available in your area. I still remember my summer reading program from when I was young. There was nothing better than going back and showing that I had earned the prize. Google summer reading programs to find out what is available in your area. 
Stay on or Near Their Reading Level
Finding books on your child's reading level can make a difference for your child. Books that are too advanced can leave your child frustrated and encourage them to give up. You can test your child's reading level using the five finger test. Finding a book that is on level can boost confidence so that they are more motivated to read. 
Play to their interests
If you have a child who loves tornadoes give them books about tornadoes. If your child loves lego, give them The LEGO Ideas Book. If your child is interested in the topic they are more likely to read. If you are looking for some ideas for books I have a post with over 100 books for kids. 
Try graphic novels
Graphic Novels are a great alternative for children who struggle with reading or for children who are dyslexic/dysgraphic. My son is younger and loves books with a graphic novel feel. 
Think outside of the box
 Maybe your child needs to change where they read. When I was a kid I would take a good book and climb up a tree. Reading doesn't have to happen exclusively in a school type setting. Send your kid outside on a picnic blanket, up a tree, or in a clubhouse. You could also let them build a fort to read in or let them hide in a giant box with a flashlight. Let them get comfortable and they may enjoy reading more.
Start a kids book club
It may be fun for your kids to work together with friends to read the same book. This will use peer pressure in a positive way to encourage your child to read. They can even make summer fun out of meeting to talk about their book. You can even utilize things like Zoom or FB Messenger kids to do a remote book club if needed. 
Looking for more?