6 Secret Struggles of a Homeschool Mom
Homeschooling is great. It's a fantastic way to teach your child on their level. That said, homeschool moms are liars if they tell you it is all easy. I strongly believe there are at least 6 secret struggles of a homeschool mom. Some of these you may know about. Some you may not. If you don't agree or think I left one out, leave me a comment. I would love to know what you think.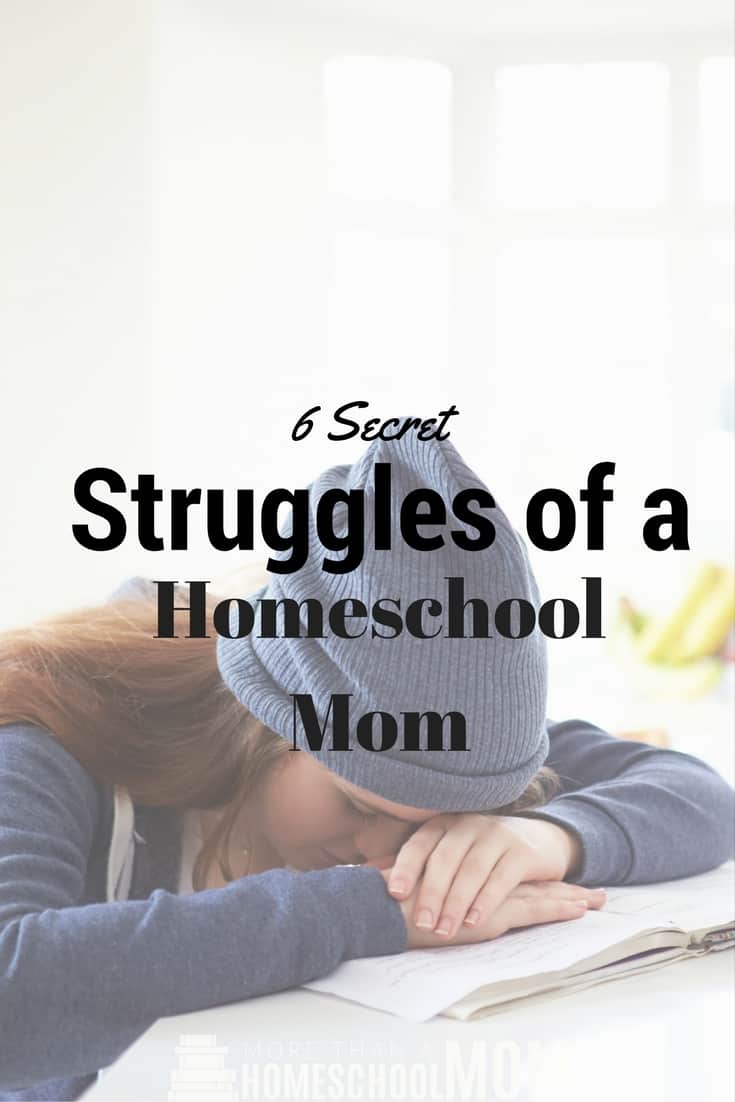 Homeschool Mom Struggles
Not all homeschool moms struggle with depression. There are quite a few that do, though. Many homeschool moms feel guilt admitting they are depressed. You see, there is an unspoken expectation of homeschool moms. Because we get to spend more time with our kids and "live the dream" we are expected to always have an unquenchable joy. Depression doesn't care, though. If you are a homeschool mom struggling with depression know you are not alone. I have been there on more than one occasion. Reach out to a friend and get the help you need to overcome it. You don't have to keep up a facade. You are worth feeling better.
Financial Struggles
There are quite a few homeschool moms just pinching pennies to break even. While this should be no big deal, it can be. Whether you are paying dues for five different groups, asked to bring a meal you can't afford, or expected to go out for lunches that aren't in the budget it can get difficult quickly. If you are a homeschool mom who is struggling financially, know you are not alone. Surround yourself with people who understand and won't judge you for having less.
Not fitting in
Homeschool mom groups are intimidating. This is even truer if you are an introvert. It can be hard to feel like you will fit in with other homeschool moms. It's like being back in middle school all over again. Here's the thing. There are some pretty awesome homeschool moms out there. Be willing to go to the groups and get to know other moms. You may meet a few that just don't jive with your personality but you may meet your best friend too.
Fear of Failing
Homeschool moms may seem like they have it all together. We don't. Homeschooling is scary, overwhelming, and intimidating at times. There is a fear of failing that often gets to homeschool moms at some point in their journey. Holding the education of your child in your hands is a heavy task. That said, you are not alone homeschool mom. You can do this. If you are afraid you are missing the mark somewhere talk to a seasoned homeschool mom who will be honest with you in a kind way.
No Time for herself
There are many homeschool moms who invest their entire world into their children. This is a beautiful mess. While it is so important to pour yourself out for your kids, it is equally important that homeschool moms prioritize self-care. I'm guilty of this. No time for the gym, a coffee date with a friend, or a date night with the husband. Homeschool takes over. Guess what, that's not healthy. Make time for things that have nothing to do with homeschooling your kids. Go to the gym, out for coffee, or set a daily quiet time when you can recharge your batteries.
Feeling Overwhelmed
It's hard to be a homeschool mom. You are expected to keep a home, educate the kids, maintain friendships, and be there for people when they need you. Let me challenge you homeschool mom, say no. You do not have to do everything for everyone. Focus on the priorities and let the rest fall by the wayside. Trust me, it will get done. You are not superwoman and that's ok.