Living in Central Florida means that we have access to many of the theme parks here. This year our family decided to get Busch Gardens annual passes. There are tons of great reasons why we picked Busch Gardens including the educational opportunities and the pass member benefits. I have put together a list of the 10 things you should know about Busch Gardens Tampa in order to have a good time. Some of these will be educational pointers while others are just plain fun.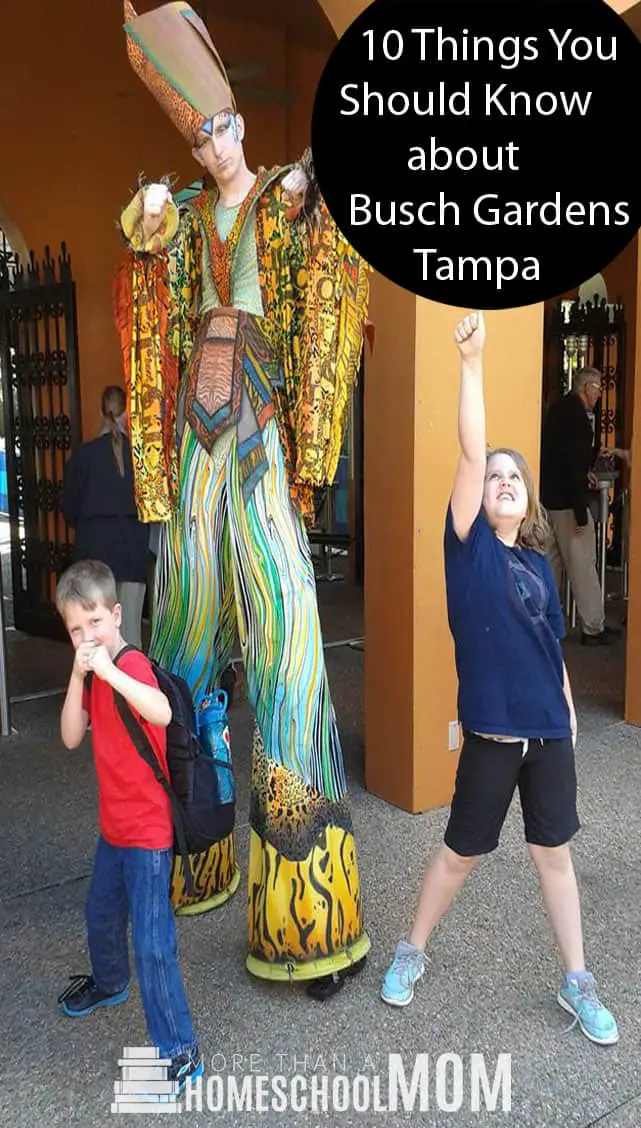 10 Things You Should Know about Busch Gardens Tampa
Parking is over $15 if you are not a passholder.
 This is a good thing to know if you are planning on hitting the parks on your vacation or getting the fun card. If you are local, make sure to have at least one annual pass in order to get free parking. Parking will change depending on time of year and whether Busch Gardens makes any changes to their policy mid-year. Make sure to check the website before you head over to the park to see if there were any changes.
The Reusable cup is a great deal!
We picked up the reusable cup for around $13. We were able to get free refills on drinks and icees for the entire day. If you are a pass holder and come back it's under $7 to be able to use it for the whole day. Staying hydrated is so important and finding a way to save on drinks in the park while having fun is always a good thing. Some of the reusable cup options even include icees.
Take the train near Cheetah Hunt.
If you take the train near Cheetah Hunt you will get to go on the parts of Serengeti Plain and see many of the animals. Depending on who is on your train you may get some really fun commentary on the different animals you will see. (This is also a great place to snag a nap for sleepy children because you can ride it around the entire park.) This is also a great place to rest your feet while you are on the train. If you don't take the train, take the sky line ride.
Bring Backup Clothes.
While this isn't a water park there are many places to get wet. Some of those include the Sesame Street water area, the Congo, the River Rapids Ride (these have lockers that cost a dollar for 2 hours), the base of Sheikra, and on the bridge by Stanley Falls Flume. These are great ways to cool off on a hot Florida day. However, if you have a child who doesn't like to be wet, bring a backup outfit to change into so you can enjoy the rest of your day at Busch Gardens.
Meet the Keepers
On your map, there are times to meet the keepers in front of different enclosures. If you have a child like mine, make sure to go to each of these. The keepers will take time and answer your child's questions. They are very well versed in their animals and will teach your child a lot about each animal. Some keepers even have animal trading cards your child can collect with information about the animals.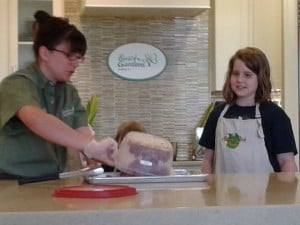 Animal Care Center
Go to the animal care center first when you get to the park. In the early morning, they have an area where they do actual veterinary procedures you can sit and watch. Later in the day, there are nutrition discussions where the keepers discuss the food the animals eat. My daughter was able to help make the meatballs for the hyenas at one of these talks.
Some things cost extra
If you are planning on feeding kangaroos or going on a safari tour to hand feed the giraffes these items will cost more than park admission. For the kangaroos, you are able to pay at the attraction. With the giraffes, you will need to book the tour in advance. Make sure to take some time to research the different extra opportunities at Busch Gardens Tampa to make your trip even better.
The Meal plan could be worth it.
If you are going to be in the park all day with your family the meal plan could be worth your money. For $33.99 you can get a full entree, 1 side item, and a drink each time through the line. You can go through the line once each hour. If you are going to be there all day this may be a more cost friendly idea than leaving the park or paying for each meal. You are not allowed to bring full sized food into the park.
Lockers cost money
There are lockers at some of the rides where you will get wet. The ones I saw were a dollar for 2 hours. These lockers can be a help if you want to ride the ride together. Make sure to bring quarters for lockers.

Shows are great for rain
If it starts to rain check your park map and see what show is near you. These shows can be a great place to wait out a short storm until the rides are running again. Our favorite show is definitely Iceploration.
Bonus Tip
In Florida, if you don't like the weather, wait five minutes. While the weather may start to look bad it could change in a few minutes. Don't give up on the park because of a bit of rain. You will know it's probably going to rain if you feel a sudden temperature drop.
Looking for more?
Summary
Service Type
Provider Name
Busch Gardens Tampa
,
10165 McKinley Dr
,
Tampa
,
Florida
-
33612
,
Telephone No.(813) 884-4386
Area
Description
Thinking about visiting Busch Gardens Tampa? Don't miss these 10 tips first!