10 Things New Homeschoolers Really Need
Another school year is just around the corner. With the new school year come the new homeschool moms who are starting this journey for the first time. I can see her now. She's probably sitting in the midst of a pile of curriculum, planning out every moment, and setting up huge dreams for her homeschool. Or… She's overwhelmed. Which one are you? It can get overwhelming at the beginning so I thought it would help to share 10 things new homeschoolers really need!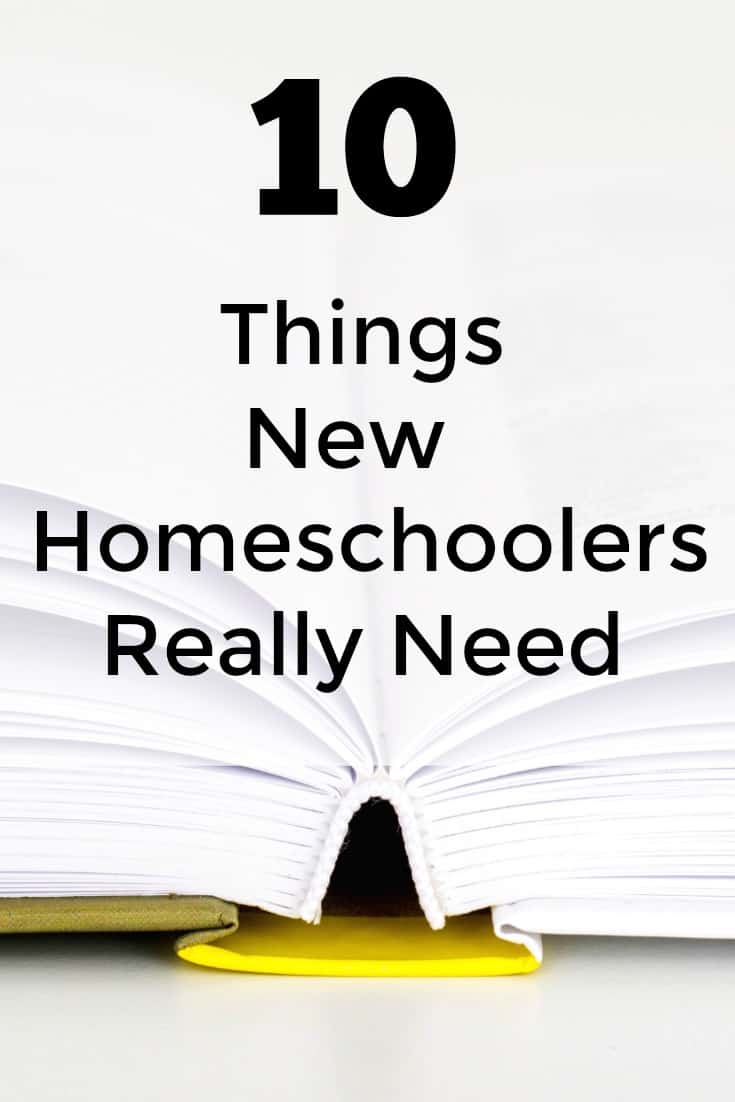 10 Things New Homeschoolers Really Need
If you are a seasoned homeschool mom and feel I've left something off the list, please leave me a comment. I might include a few quotes from some of my amazing readers at the end of this post.
Support!
I feel like that should be in all caps. You can try and do this homeschool journey alone but it won't be pretty. This may mean making homeschooling friends, finding a homeschool group, or joining the More Than a Homeschool Mom Homeschooling Group on Facebook. You will need someone to tell you that you can do this. You will need someone in your corner to remind you of your why when the days are harder. Homeschool is NEVER meant to be done alone.
A Flexible Plan
The first year of homeschooling will be a learning period for you and your children. If you have your plan set in stone, this could be an incredibly taxing year. For this year, make your plans but be prepared for things to change at times. Your child may struggle with a concept, get sick more than planned, or you may find that you want to spend longer learning about a specific concept or time period. Flexibility frees you to enjoy the journey with your child.
A Why
Why do you want to homeschool? At the end of the day, this will be what pushes you forward. When you are going through your most difficult days, all the inspirational wall art in the world won't keep you moving forward. Your why could be as simple as being able to teach to their learning style or as big as needing to homeschool so your child won't be brutally bullied anymore. (I am so sorry I have to type that. I wish bullying wasn't a thing anymore.) I suggest writing down your why so that you can remind yourself of it on the hard days.
A Break
Homeschooling is a full-time job. I have met more than one homeschool mom who never makes time for herself. I'll tell you a secret, she loses herself in homeschooling. How do I know? I did it. I was so invested in my littles I never made time for me to just get out and take a break from them. Because of that, I found myself overwhelmed, exhausted, and completely burnt out. Once I started to make time for small breaks it changed everything. I found more peace and was able to homeschool my children without losing my mind.
A Strong Will
A lot of people think you need to be patient to homeschool. Patience will definitely be a characteristic you will learn in the process but it isn't a need when you first start out. Instead, you need a strong will. By that I mean, you need the ability to look at a frustrating situation and say, "this won't beat me." You need the ability to look at your darling angels when they become less pleasant and stand your ground. You can't expect them to push forward if you are willing to give up.
Internet
I can't imagine homeschooling without the internet. I find myself on Pinterest daily looking for resources. We also use the internet often to answer questions in assignments or for different free online resources. This year we also added on an online learning component for our daughter. If you are trying to homeschool without the internet, I highly recommend setting a weekly library day to use the internet for some of the great resources.
A Good Library!
My library is my best friend! In our homeschool, a love of reading is very important. Thanks to our local library I can let the kids try out as many books as they want without breaking the bank. Most libraries offer classes, resources, and other items that will help with your homeschool. I have even seen a few libraries that have curriculum you can check out. This would be a fantastic way to try something new in your first year.
A Simplified Supply List
When you start homeschooling there may be an urge to buy everything you see in the stores. I want to challenge you to simplify your list. Look at the curriculum you are using and buy only what you need. I would recommend starting smaller and working your way up. This may mean buying the supplies for your first month or for your first semester instead of the entire school year.
Get Organized
It is incredibly important to find an organization system that will work for your homeschool space. We just transitioned to a new organization system and it has helped a great deal. Pinterest is filled with ideas. Just remember that you don't have to create a classroom at home. The goal is to have your school items accessible without making a mess of your home.
Forgiveness
You will need this more than pretty much any other homeschool tool or tip. You will need the ability to forgive yourself when you don't measure up to the standard in your head. Forgiving yourself for failing can be the hardest lesson any homeschool mom has to learn but it is essential to your success. The reality is, you won't do it all right. You will mess up and you have to be willing to accept that and move past failure.