10 Things I Wish I Knew Before our House Fire
As many of you know, we had a house fire back in October. I would be lying if I said the process is over. We actually had to reopen the claim and deal with some additional issues on the claim this week. I'm going to share 10 things I wish I knew before our house fire in hopes that it will help you out. These are tips to help prevent a fire and tips to prepare for the possibility that you may have a house fire one day.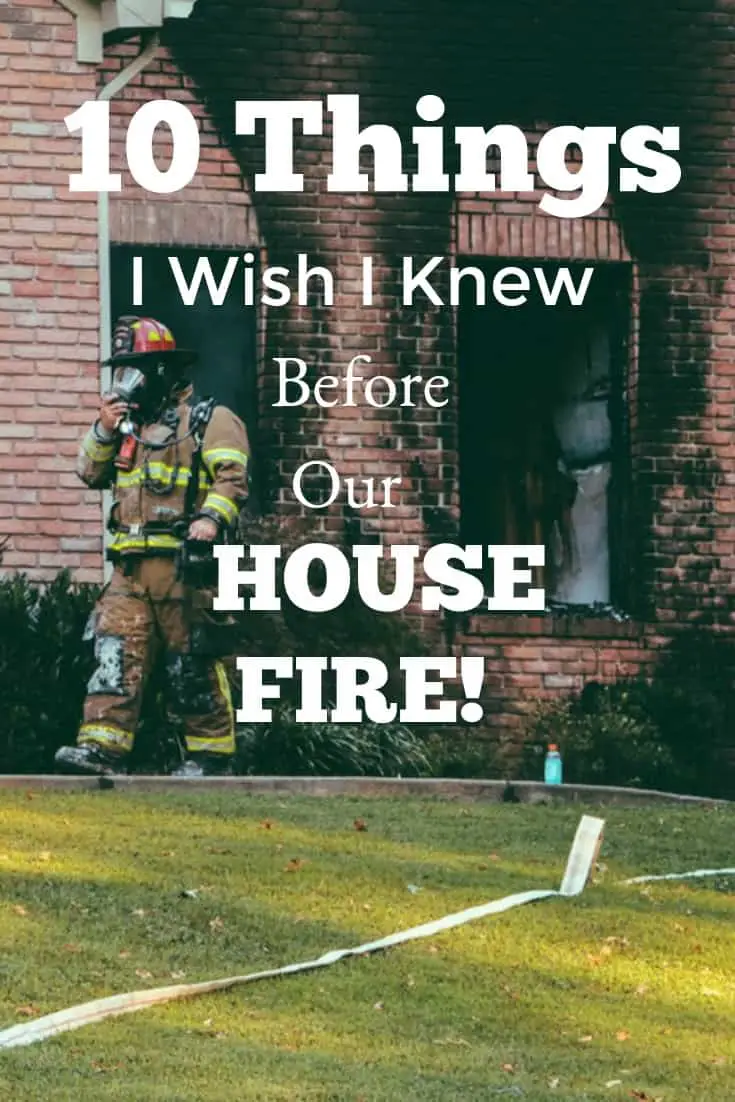 10 Things I Wish I Knew Before our House Fire
I know that every situation is different. These are simply my tips from our experience.
Get your Dryer Duct Work Cleaned!!!!
I am not referring to the lint trap. I am referring to the duct that goes outside of your home. That was the cause of our fire. It backed up and the dryer caught fire. This may seem like an expensive fix but I promise you it will be cheaper than a house fire. You can find someone to do this by searching for dryer duct cleaning in your area.
Have a fire safety plan.
It is so important to have a fire safety plan and run thru it with the kids. It's one thing to say, "This is what we do in a fire." It's another to actually take the time and do a home fire drill. We all think we know what kids will do but sometimes they surprise us.
Check your Smoke Detectors.
Make sure that you have smoke detectors installed and that they are working well. We were awake during our fire and thankfully got out. However, if this fire would have happened at night we may not have been so fortunate. Amazon sells smoke detectors with a 10-year battery. I recommend installing it and making sure that it works well. These can save your life.
Learn how to handle different types of fire.
Did you know that there are some fires that are actually dangerous to put water on? Grease fires are one of these. Another is an electrical fire. I almost put water on our dryer fire before my husband reminded me that water conducts electricity. I am so thankful for that man! Make sure to have a basic understanding of different types of fires and when to call in the experts to handle it.
9-1-1 can take time to get to you.
We stood in front of the house for 10 minutes waiting for the fire response workers to get here. It was the longest 10 minutes of my life as I didn't know what would be left of my home when they were done. Get yourself out to the street and away from the home. Be ready to answer any questions the fire marshall will ask and do not go back into the home.
Verify your insurance coverages.
I recommend checking with your insurance agent now if you haven't had your fire yet and seeing what coverages you have. I highly recommend checking on what your deductible is as well as finding out if you have replacement cost or depreciated cost on your policy. I am not an insurance specialist but I would lean towards replacement cost if you have the option. If you don't have insurance, now is the time to get it. Insurance covered our housing while our home was unlivable.
The insurance isn't your friend.
This was the hardest lesson for me to learn. I wanted to believe that since I paid for my policy my insurance would have my best interest at heart. I will not go into all the details but we had extra damages because of the people they sent out to do the initial clean-up of the house. You have every freedom to use your own people and to have the insurance pay for it. I wish I would have started with people I knew could do the job. I am not saying all insurance will mess with you. I am simply saying you don't need to do them any favors. They aren't helping you out. They are doing their jobs.
Keep records of everything!
Did you have to do extra driving, extra laundry, or buy food you normally wouldn't? Keep receipts. The insurance will ask for these. You also want to keep dates logged from when people came out as well as all emails with the insurance. You can easily use google calendar on your phone to input this information. When possible, get things in writing instead of on the phone. I recommend emailing when possible so there is a paper trail of every conversation you have had with regards to your claim.
It will be a long process.
I had this naive idea that this would be a quick process and I would be home in no time. I am sitting at 8 weeks post-fire right now. I don't have upper kitchen cabinets, the bathroom is half finished, we haven't seen a cent from the insurance, and we are heading to the laundromat later today because we haven't been cleared to put in a washer/dryer yet. It is very important to remember that this will be a long process. It can get discouraging but you will get thru this.
Let people help you.
People will want to step in and help. You may be overwhelmed and exhausted. Let people step in and help you. It is completely ok to let someone take a load of laundry for you, cook you a meal, or give you a gift card. Don't let pride prevent someone from helping you out. You will need it and it is ok to ask for help. You may even find that it blesses them just as much to bless you as it blesses you.
Bonus point.
People will mean well but they may say/do things that are just insensitive. The phrase, "Well, at least you will get a new house" has become my least favorite phrase on the planet. Also, the bag of clothes I was gifted that smelled strongly of cigarette smoke put me into tears. I couldn't handle that smoke smell after all I had been thru. I know they meant well but smoke smelling clothes are not a good gift after a fire. Do your best to ignore people and pass donations on to other places if needed.