I was a Teaching Textbooks blogging ambassador and did receive my curriculum from them. However, all opinions are 100% my own.
We have been a Teaching Textbooks family for the last couple years and I have seriously loved it. It has been such a help for us and it has helped my oldest to thrive in Math. Before starting Teaching Textbooks she and I fought often about Math. Because of her dyslexia, she just wasn't thriving with the curriculum we were using. However, when I first started using TT there were 10 things I didn't know about Teaching Textbooks. I am going to share those with you so that you can get the most out of your Teaching Textbooks curriculum.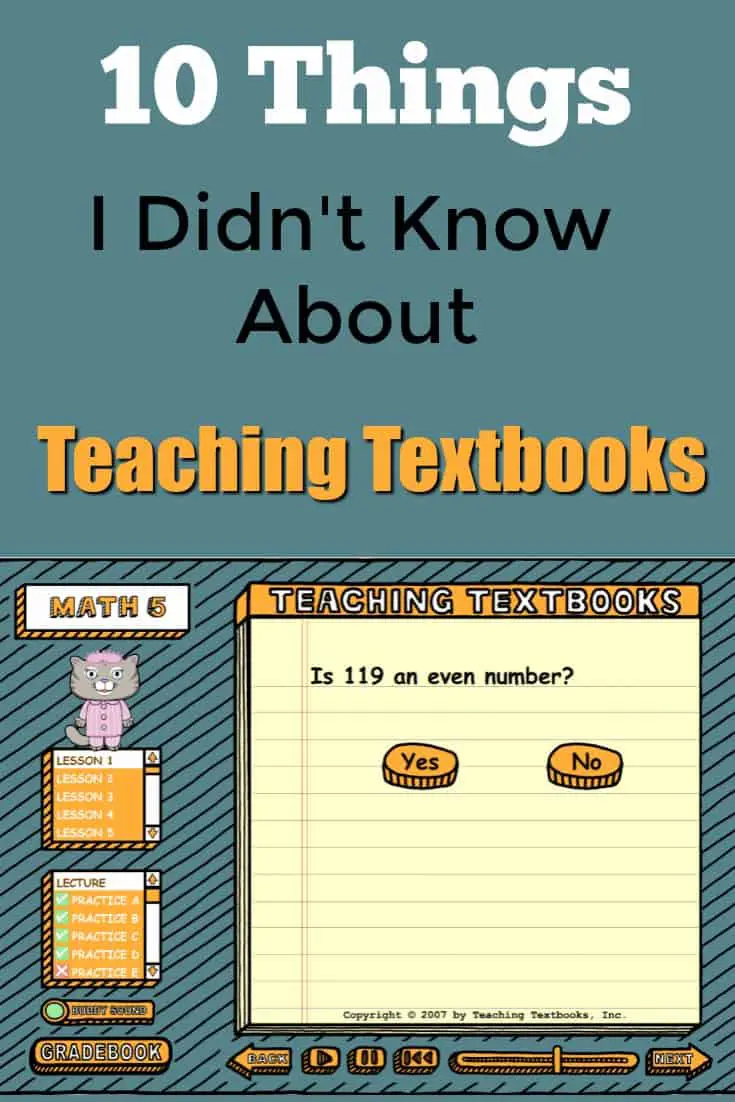 10 Things I Didn't Know about Teaching Textbooks
If I leave one off that you think should be added, please leave me a comment. I am happy to hear how else I can enjoy this curriculum best.
Teaching Textbooks has incredible Customer Service!
One of the things I love the least about a problem with anything is reaching out to customer service. I hate having to call and sit on hold forever in hopes of reaching a human being. TT is the exception to this rule. Their customer service is easy to contact and the people you actually speak to are incredibly nice! I have never had a problem with getting a kind person on the phone to help me resolve any issues I have had.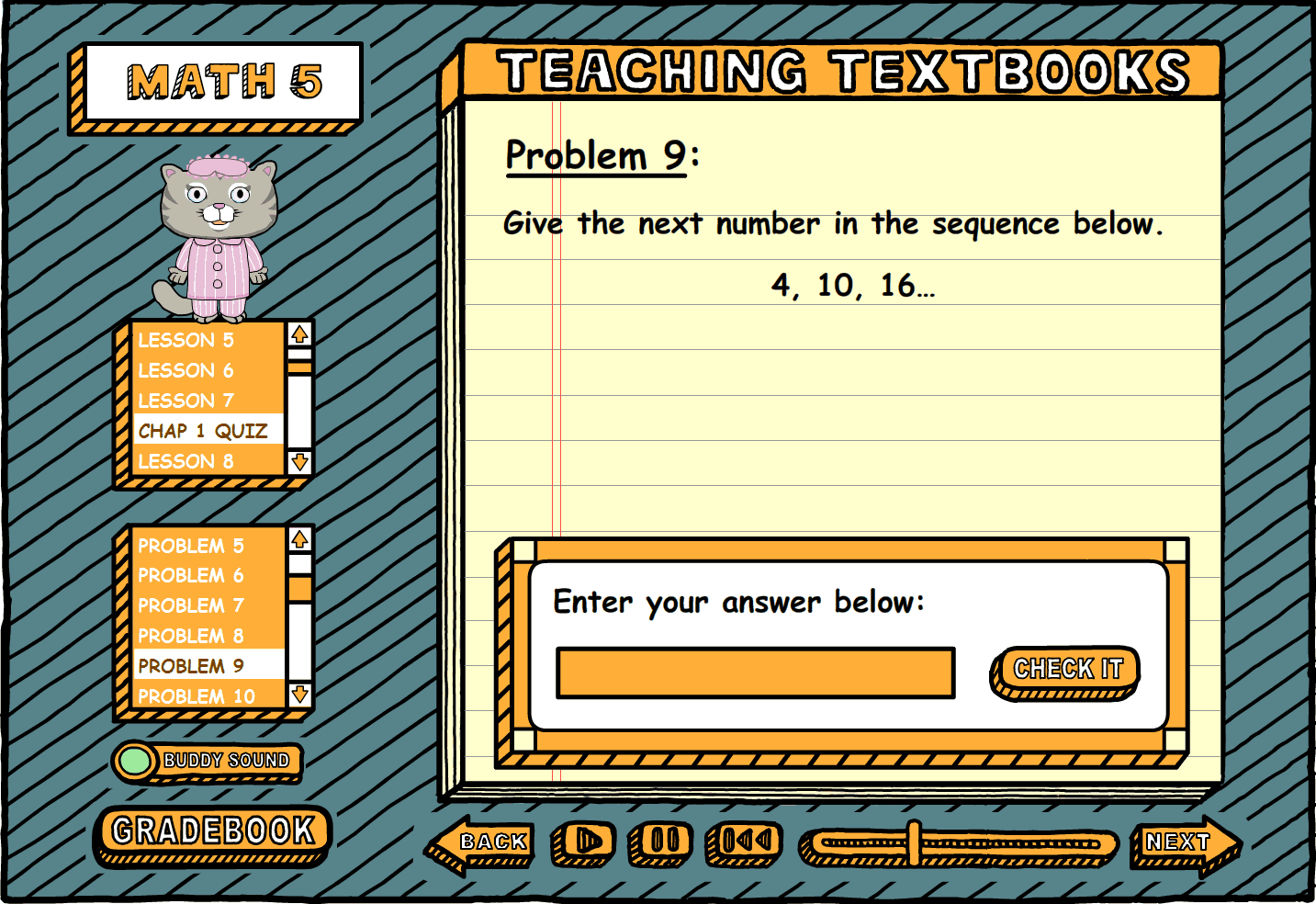 Teaching Textbooks will reset a used set for you to use if you buy used.
I was really nervous when I had to call and reset my Teaching Textbooks in order to use the discs for my daughter. I knew I paid way less than full price and I was essentially calling them to get to use it for way less. Not only were they incredible about it, they didn't make me feel bad at all. It was a great first impression for me with Teaching Textbooks.
I can get a replacement disc.
One of the things that made me nervous about TT was the fact that it was only on a cd format. I could just see those discs getting scratched and damaged. The good news is, you can get a replacement disc for $15 shipped. You really can't beat that as the full set is considerably more.
Teaching Textbooks has free tutoring.
If your child is struggling with a concept in their lessons, they can call Teaching Textbooks and get free tutoring to help them work thru a problem area. We haven't had to use this yet but I see it being a need as we get into upper Math that I am not as strong with.
Teaching Textbooks allows reselling of the curriculum.
This is a huge advantage in my opinion. While the cost of the curriculum can seem high, it has high resell value. You can often sell it for close to what you paid for it. Even more, Teaching Textbooks doesn't limit how many times it can be resold. Just make sure to have the person you sell it to call Teaching Textbooks with the serial number to have them activate it for them.
Cyclical Learning
One of the things we really enjoy is the fact that this curriculum continues to review the material they are learning throughout the year. They don't teach a concept and then drop it. Problems will continue to surface throughout the curriculum and the child will have a chance to continue to solve those problems to make sure they are retaining the material.
Every problem has a solution explanation if they get it wrong.
If your child gets a problem wrong, every single problem in the work has a spot where you can click to see the solution and see why that solution works that way. It's like having a teacher there to help your child understand why they got a problem wrong. This is really helpful if you are educating more than one child and can't get there right away.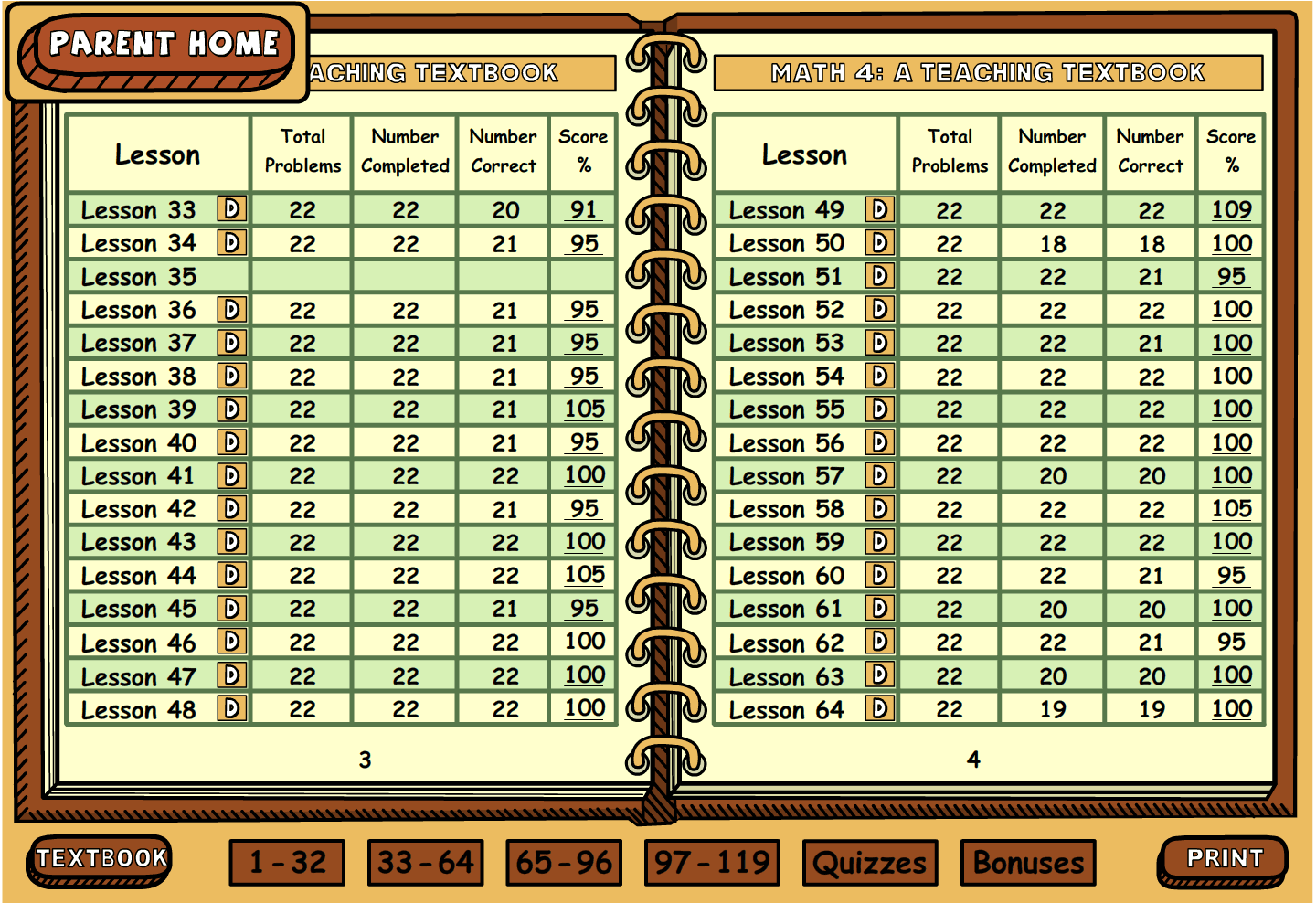 You can delete problems or lessons.
If your child is struggling with a certain problem or lesson, you can go into the gradebook and delete certain problems or the entire lesson to give them a chance to go back and master it. We really like this because it means she can fix only the problems she struggled with without redoing an entire lesson. The gradebook also shows how many attempts they made on a problem and if they asked for a solution.
Teaching Textbooks uses real-world situations.
Instead of Bob buying 20 oranges and 52 candy bars, there are realistic real-world situations in the Math problems that are actually relatable to the student. This helps to answer the "how will this ever matter in the real world" question.
Shipping is always Free with Teaching Textbooks!
One of the wonderful things about Teaching Textbooks is that if you buy your curriculum thru them, shipping is always free to the U.S. and Canada! You seriously can't beat that!
Teaching Textbooks will be launching an online version!!
We don't know the date of the release yet but there is talk that an online version will be launching soon. I seriously can't wait for this! I can just see the ease of having an online version instead of a CD version!
What is your favorite feature of Teaching Textbooks? Leave me a comment and let me know.
Looking for more?